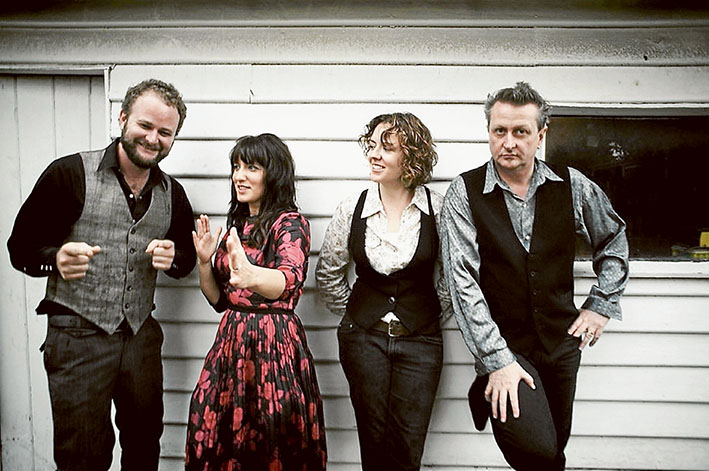 Canadian born singer-songwriter Tracy McNeil has been releasing albums in Australia to the adulation of critics and aficionados since her arrival in 2007. Now a permanent resident, McNeil and her music have been claimed as Melbourne's own.
Her 2014 release Nobody Ever Leaves received two nominations in The Age Music Victoria Genre awards (Best Country & Best Folk/Roots album) and Tracy McNeil & The GoodLife were named Australian Artist/Band of the Year in the Rhythms Magazine readers' poll that same year, with editor Martin Jones describing their live show as "fully realized, world-class country-rock."
In 2015, McNeil was busy with international supports for American rock-band Dawes, a Canadian solo tour, and playing with The GoodLife at the Americana Music Festival in Nashville, TN. Throughout her travels, a new record was in the making and the band are excited to announce the release of the first single Paradise from the forthcoming album Thieves, due for release in late June 2016.
Paradise navigates a fleeting, utopian space that can exist between two strangers, drawn by an irrepressible magnetism to a place that can be visited but never lived in, and they are inevitably set adrift again…
"feel it coming like a roll of black thunder, heat gets heavy underneath the sky, I hear you breathing before you're standing near me, this feels like something I ain't ever tried."
Co-producer and engineer Shane O'Mara has applied a healthy dose of Californian shimmer with a driving, double-drum track, and some Laurel Canyon-esque harmonies from The GoodLife harking back to the halcyon days of late 70's L.A. country rock.
Written by McNeil between Melbourne & North America throughout 2015, Paradise is the first offering off Thieves – a collection of songs that traverse the undulating emotional landscape of loss, the elusiveness of time and new beginnings.
With the passing of her father during this period, McNeil found solace in song; resulting in some very cathartic and productive writing sessions in Nashville, LA & Canada that would ultimately produce the fruits of this, her fourth studio album due for release in June, 2016. The subject matter shifts from the darker corners of living through heartache and loss, to finding the light again and stepping out into something new.
The GoodLife features Dan Parsons on lead guitar, Luke Sinclair (Raised By Eagles) on rhythm guitar, Bree Hartley on drums and Trent McKenzie on bass.
Tracy McNeil & The GoodLife will celebrate the release of Paradise with a free show on April 15 at the Retreat Hotel in Brunswick, with special guests Murdena.