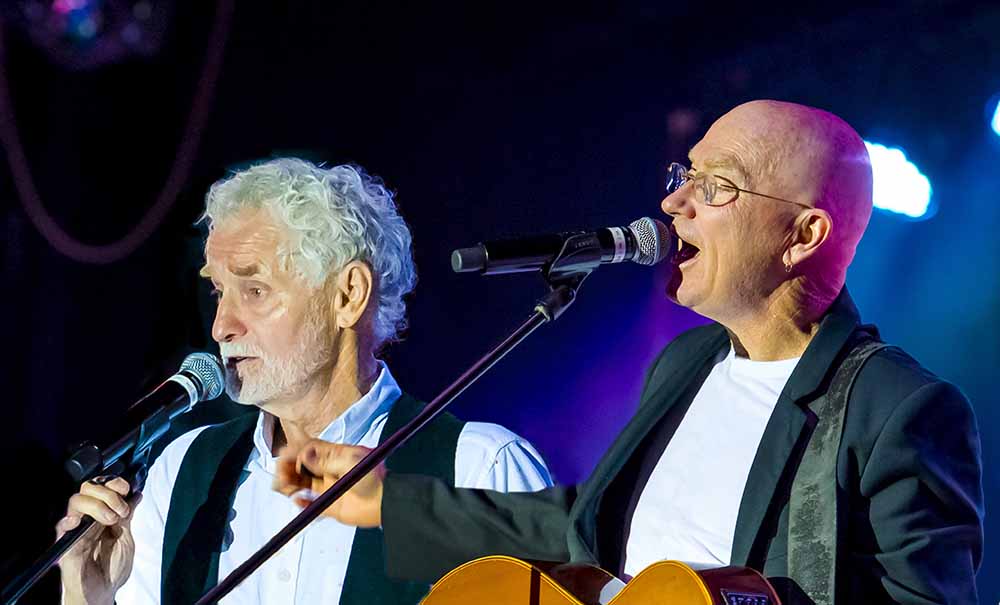 CAN you believe it's over 50 years since Mrs Robinson removed her garter in the Graduate?And over 30 years since the landmark Grammy winning Album – Garceland!
Paul Simon is undoubtedly one of the greatest songwriters in Contemporary Music
His success & variety of work, spanning 6 decades, is true testament to his genius. From his massive early success in Simon & Garfunkel, who defined the folk rock sound, Mrs Robinson…The Boxer Sounds of Silence …Bridge Over Troubled Water..…Feelin Groovy ….to his solo endeavours in reggae, rock, contemporary. …Mother & Child Reunion… 50 Ways….. Kodachrome ….. Me & Julio… & his ground breaking African inspired Album 'Graceland'. ….Call Me Al……Graceland his work is a varying palette of brilliant stylistic expression.
This celebration performance was initially inspired by Simon & Garfunkel's legendary reunion Concert in Central Park NY, which attracted an incredible audience of over 500,000 people!
It features those early years of 'Simon & Garfunkel', & also highlights Paul Simon's solo efforts, culminating in selections from his landmark Graceland Album.
We guarantee you will sing along, be lost in memories, relive the feelings, jive in your seat & maybe even shed a little secret tear.
'Shelley & Robertson' with their live band, consider it a privilege to perform the 'Songs of Paul Simon'. "Every song is so well crafted & formed, both musically & lyrically. So full of meaning & memories & always fresh….it is such a pleasure"
Paul Simon may have retired from performing, but his songs will play on forever.
Saturday September 7 at 8pm. Frankston Arts Centre artscentre.frankston.vic.gov.au 9784 1060