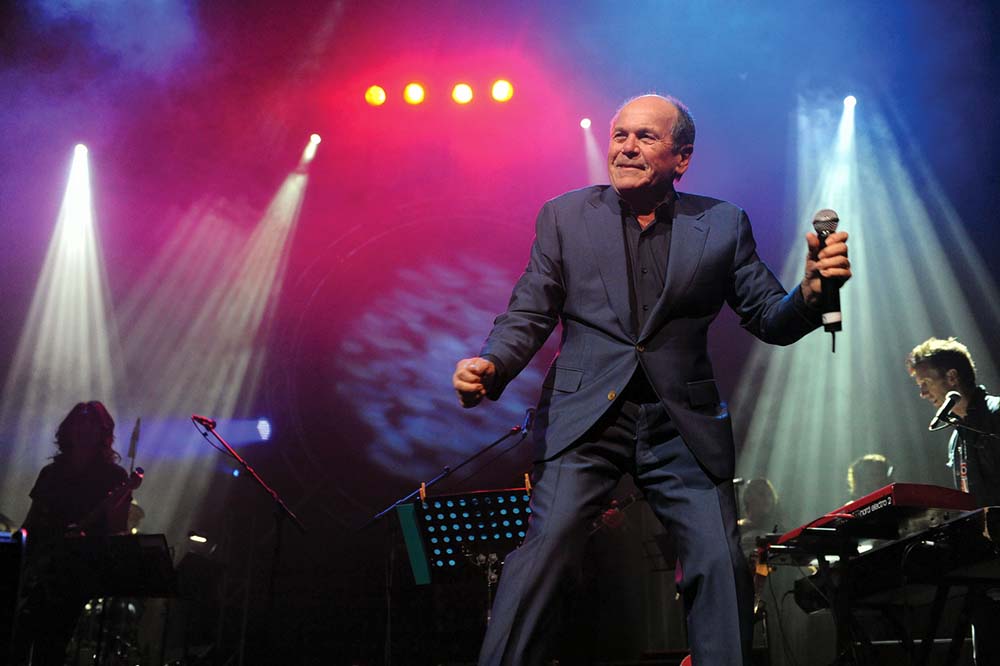 When you've been more than five decades in a career and still love your work, you must be doing something either right, or well. Both can be said of legendary rocker, Glenn Shorrock who, at 74, is still entertaining crowds, and heading to the peninsula this month. Peninsula Essence talks to Shorrock about life, music and longevity.
"I have to be honest. I never dreamed I would be doing this in my 70's although when I started out at 18 I did make it an ambition do be performing well into my 50s," said Shorrock with a laugh. "It's funny you think 50 is so old when you are that age."
We had a great time touring the world, and really took off in America
For Shorrock, performing, singing and writing songs was a natural progression from the first time he did a gig in Adelaide when he was a kid.
"I started in South Australia where I was part of a migrant family from England," said Shorrock. "There was music in my street that I got involved with Then an opportunity arose for me to sing with somebody else and it all went from there. I stated my own vocal group with my mates when we were about 17, did gigs around the area and became mates with our musicians."
With a love of rock and roll that began after hearing Elvis's Heartbreak Hotel, Shorrock dabbled in more upbeat music.
"I was a fan when I first heard Elvis Presley when I was 14 and found out about this new rock and roll music in America. I had only heard the crooners that my aunties used to play and then I discovered this," said the former lead singer and songwriter of the internationally popular Little River Band. "In my early 20's I turned professional and moved to Melbourne, where I carried on my career. The Little River Band came about in 1974 so I had a good ten years of experience before that."
Shorrock says appearing on Countdown from 1975 was the catalyst for a huge leap and the band soon found themselves receiving interest from the American market.
"We had a great time touring the world, and really took off in America," said Shorrock, who spent about 15 years living out of a bus.
"I loved touring but never bought a place and never really put any roots down. I wanted to live in Australia more than anywhere else."
Shorrock's philosophy is that you must keep learning and be open to different opportunities and he has always done that over the past 50 years.
"You don't plan for these eventualities; you take the opportunities when they come, and because of that I have been hooked up with a lot of great writers and musicians over the years," said the man who took his own songwriting inspiration from the likes of Lennon and McCartney. "They are still an inspiration to me and are timeless. I would never put myself in the same class as them but I am delighted that some of my songs are still known."
I have spent my whole life doing what I love and I don't think there's a lot more you can ask for
Even on his passport, for "Career" Shorrock writes "entertainer", instead of "singer songwriter"; a deliberate description which still applies to the legendary performer.
"I know I have a good history and large body of work but I have always just wanted to sing and entertain, nothing more. I have been so lucky over my life to front bands like The Twilights, Axiom and of course Little River Band," said Shorrock whose hits include Cool Change and Help is On Its Way.
From stints in the '60s with pop band The Twilights and rock group Axiom, Shorrock said it was a natural transition to become involved with Little River Band and then eventually branch out on his own.
"As a teenager who loved rock and roll, it was a lot simpler then. I had rhythm and could sing, so working in the industry was the next step," he said.
"It is a lot different these days; more of an industry."
For Shorrock, these days, life with his wife Jo is a little quieter, but there is always a gig or a tour.
"We live in Sydney and I still love making music, but now I do it for the love of it," he said. "I have spent my whole life doing what I love and I don't think there's a lot more you can ask for."
Glenn Shorrock performs at the Publican in Mornington on June 23rd 2019.