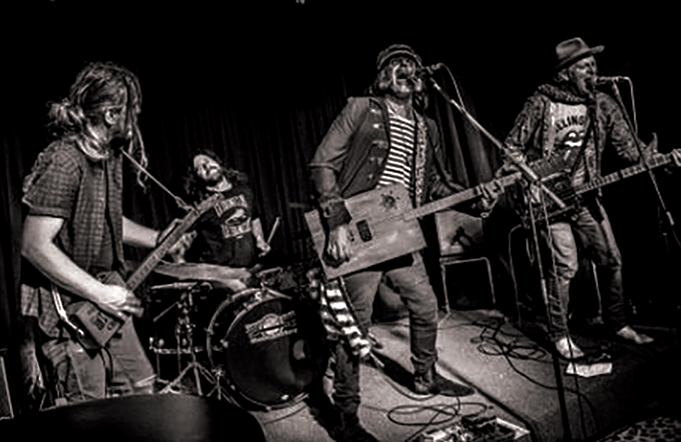 By TERRI LEE FATOUROS
He cuts a sultry, brooding, and complex figure on stage as he sings and plays his Cigar Box Chuggar guitar. His voice matches his sideburns and hair; lustrous, wild and imbued with cool. Wearing a captain's hat, striped t-shirt, multi-buttoned jacket and black jeans, he looks a mix of pirate and neo romantic expression. Born of Hungarian parents, Adam Kovarik is the front man of pioneering indie band Stackhouse, blending a unique blend of Australian blues and rock.
It would be fair to say that Stackhouse lives up to the quintessential, Melbourne underground grunge rock and blues band but with one difference; these guys are gifted and rising fast.
Let's face it, when you have wild man Kim Volkman of the Whiskey Priests playing distorted Cigar Box bass, Venom of House Wreckers on drums and Jake Ellis on Cigar Box lead, you're going to get crazy action going down.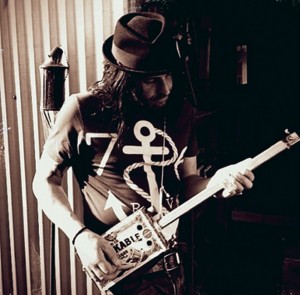 Stackhouse is the first Australian all Cigar Box Guitar band and their songs are pretty darn good.
These delightful guitars are traditionally three and four strings and create a unique sound unlike any other type of guitar. They produce a harmonic depth of range that can alternate from deep resonance to high pitch and trebly sounds.  Some even suggest it's like a vintage tone that is straight from the south.
"Making Cigar Box Guitars stemmed from my interest in old blues music that originally began in the Mississippi, deep south of America where money was little but the passion to make music was very high. Out of empty cigar boxes people would put a stick through the box and stretch wire the length of the instrument to create a unique sound playing with a bottleneck as a slide.
This fascinated me so I began to build guitars myself, progressively they became more playable and sounded better and better. They are all one off unique functional pieces of art.
Interestingly, Stackhouse started primarily from the making of my Cigar Box guitars, which in fact was inspired from the music in the TV series True Blood, as I originally thought it was a Cigar Box being played. Even though it wasn't, it got me interested in the guitars that got me building them. So when a musician friend of mine suggested we put together an all Cigar Box guitar band and create our own Melbourne bitter flavour of music to showcase the guitars I build, I thought, 'why not?'. I already had a few songs written and Ellis and myself wrote some more which resulted in recording our debut album, Stackhouse, an album of all original material, " says Kovarik.
Currently they are waiting for their second album Jack the Dancer to be mastered; and so far they have had a good response from it.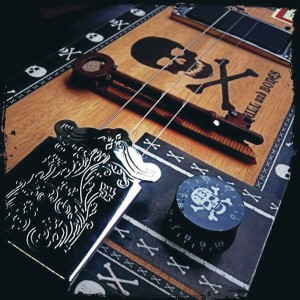 This album is themed and Kovarik builds the character of Jack the Dancer, an evil man, who you might think has gone away but only to return. Therefore, the album is the story of 'Jack the Dancer', a reference to cancer and of life's experiences.  Just when you think cancer has gone…it comes back!
Although Kovarik is the main writer, their second album saw Ellis and Venom contributing their creative input.
"I might have a notion or we'd be jamming and an idea would manifest. In fact most of the second album came from the three of us jamming, but lyrically I wrote most of it." 
Previous bands for Kovarik were Two Bob Watch, and Stinky Gypies, and like Stackhouse he told his stories on stage through his music, twisting facts but with a little truth peppered throughout.
"You know I make up a character and tell some crazy things. For example one of the songs in Stinky Gypsies was called If You Don't Ask You Don't Get.
That idea was from somebody saying that to me."
His creativity just comes to him and he takes full advantage of it when it does.
"There is a song on the first album that had to be written. Any time a person says 'I don't know' you'll hear, 'well, google it'.  So I wrote a song called Google It.
On our new album there is a song called Break Into My Car, which is really inspired by Venom telling me a story about him and Phil Parra loading their car full of equipment after a gig in Castlemaine when they accidentally locked the keys in. That's what inspired that song.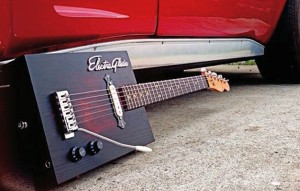 The new album has a beginning and an end." 
Kovarik is a big fan of Alice Cooper and Tom Waits whom both are big storytellers in their own right. So it's no wonder when Kovarik hits the stage the unexpected can and often does occur.
By day Kovarik is a mechanic and has worked on most of the band members cars. In fact he told me the full story about how the band did come together. 
"Brian Colechin, who now has played bass on both albums, found me through the internet as he needed a mechanic and read the reviews about me and contacted me. I fixed his car and he saw the guitars and said 'what the hell, this is fantastic' and suggested we put a band together. Colechin was playing with Venom in The Hell Hounds at that time. Anyway, Venom came around to have his car fixed and when he saw the guitars he was keen to gig. We all got along so well that we actually recorded our first album in record time. 
On both albums we had guest musician, Michelangelo Russo who is an atmospheric dude-playing trumpet, keys, and harmonica."
Over the years he has custom made a lot of guitars for different musicians as well as selling stunning pieces for people who just want to hang them on their wall. Some of the best ones have been sold to people who'll never play it.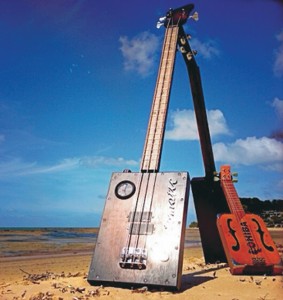 Each guitar has its unique, individual style and appeal. Recently Kovarik widened his range by experimenting with different woods and box size, thus creating additional musical works of art.
Anyone turning his or her nose up at a Cigar Box guitar would be wise to think again. Tom Waits played Cigar Box Banjo on his album Real Gone.
PJ Harvey plays a Baratto Cigar Fiddle, Bo Diddley plays a cigar box shaped guitar and Luther Dickinson, the guitarist from the North Mississippi Allstars uses an electric Cigar Box guitar called the 'Lowebow'. While cool dude, Billy Gibbons of ZZ Top performs with a Cigar Box guitar made by Kurt Schoen. 
Even way back in 1967 saw Jimi Hendrix – Summer of Love gig playing a home made Diddley Box! These guitars are not only beautifully made, but look cool and sound
really amazing producing very different resonances compared to your ordinary run
of the mill guitars. 
Kovarik's hope for Stackhouse is to tour and be acknowledged for his songwriting, commitment, and effort he puts into the band. Let's face it, music is his life; he lives, breathes, and makes it. 
He sums up rather wisely though. "As good as a musician you can be, without a good song you don't go anywhere."   
There really is a distinctive buzz around Stackhouse, with all the right ingredients in the mix. Kovarik's showmanship and storytelling play out in his songs, and when combined with his siren prop eerily wailing throughout, it adds that darker, otherworldly feel, like in Alice Cooper's shows. Kovarik's wielding, blending and storytelling in his music is intense and you just feel there's something deeper going on. In fact, if Stackhouse were given the right stage dramatics such as lighting, props, costumes, fire extravaganza, etc, they would be world famous, world class in a blink of an eye. Something to think about, boys!
Stackhouse is on the rise and fast. With gigs at The Espy, Mr. Boogie Man Bar, Cheery Bar, Northcote Social, and many other venues under their belt, the guys are fast becoming hot property and bookings are flowing in. Luckily for us, Stackhouse is coming our way soon so keep a look out for the extraordinary music and show the band has to offer.
stackhouse1.bandcamp.com
www.facebook.com/stackhousetheband