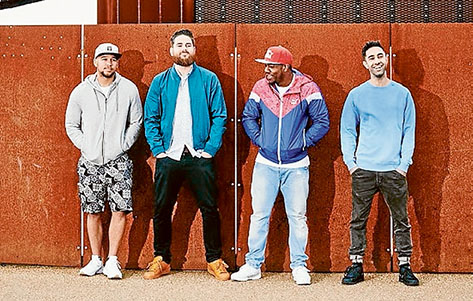 Rudimental will return to Australia and New Zealand this May to play their biggest headline shows to date, joined on tour by fellow UK powerhouse Jess Glynne plus local talent Thandi Phoenix for all Australian shows.
The UK four-piece have gone from strength to strength with the release of 2015's We The Generation, celebrating the album's release with a near-sell-out global tour that included a string of sold out Australian headline shows, explosive performances at Glastonbury, Governors Ball Music Festival, Bonnaroo and T in the Park, plus a coveted support slot on Ed Sheeran's Australian and New Zealand stadium tour that saw them play to more than 250,000 fans this summer:
A cacophony of backup singers and musicians line the stage surrounding Rudimental's four founding members – Amir Amor, Piers Agget, Kesi Dryden and Leon Rolle – who bring all they've got to their performances.
With a history of sold out shows in Australia and New Zealand, fans best act quick to secure their tickets to a tour that is guaranteed to be jam-packed with thumping rhythms and mass sing-alongs – don't miss out!
Tickets at www.ticketmaster.com.au