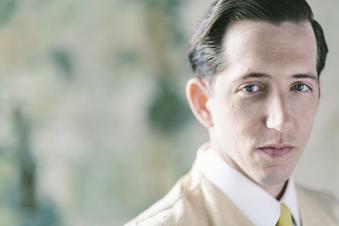 By TERRI LEE FATOUROS
The Caravan Music Club in Oakleigh recently played host to US seven-piece Pokey LaFarge along with his support act, Luke Wilson King. LaFarge did a run of East Coast gigs which saw his ragtime, string band jazz, western swing, old country blues, and various other subgenres of American folk and roots music packing out venues everywhere he went. 
The St. Louis based singer, songwriter and multi-instrumentalist is greatly inspired by deep-rooted American music traditions, particularly old Mississippi roots era. As well as stamping his own musical blend into the mix, LaFarge seems hell-bent on creating timeless compositions that cannot be confined into one particular genre.
With the latest release of his 7th album, Something In The Water, coinciding with his debut Australian tour, LaFarge's innovative brilliance stood out with originals like Wanna Be Your Man, the glitzy and jazzy Underground, along with his crooning vocals on Cairo, Illinois.
This tight-knit polished ensemble of professionals really knew how to work the crowd, revving them up with exceptionally fast riffs on all instruments including trumpet and double bass. It was a spectacular performance to watch.
Throughout, LaFarge kept a solid constant beat on his guitar with a well-practiced right hand incorporating a simple technique of thumb, index, and middle finger fast plucking riffs. 
His confidence shone through in his demeanour and music and he's wasn't afraid to tell you so either. 
His lamenting yet comedic songs told stories of bygone days, about work, scurrilous tales of scoundrels and life experiences.
In fact, some even compare him to a modern day Emmett Miller, a blackfaced Vaudeville star of the 20s and 30s who greatly influenced the likes of Hank Williams and Jimmie Rodgers to name a few.
His support act, Luke Winslow King, was really good and got everyone's attention with his infectious personality, crooning vocals and awesome guitarmanship.  He sang a few songs off his album, The Coming Tide, which saw him feature the fabulous voice of Esther Rose who accompanied him on stage.
There is no doubt that LaFarge is making it all sound fresh and new again.
His dynamic, charismatic personality and his eclectic yet brilliant revamp on American folk, old country blues and roots music, sees his music well sought after for modern day palates of said genre.