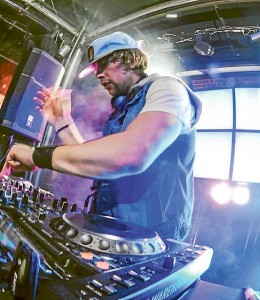 "The very first time I set my fingers upon my dad's vinyl player, it was awesome scratching the shit out of his good records… haha!" And thus was born Rhys Riley, Mornington Peninsula local and long-time music lover of many genres.
"…then I got involved with CDJs and mixers. Wow… it was endless what I could do – I fell in love straight away. Everyday I practiced," much to the chagrin of neighbours, no doubt. But the hard work paid off – he's been doing the rounds locally for years now, gaining enough acclaim to get slots at bars and festivals all over the world. This year he'll be headlining Melbourne and Sydney's biggest boat party, Fleet Beat.
But what is it about the creative process that saw him drop the guitar and hit the decks? "Being a solo DJ, you have the advantage of being able to cut, change, and improvise on the fly. With a band, there are of course multiple people involved, you really need to work together to build that platform from the beginning before you even head to a studio."
His latest Mixcloud Chillout Sessions made it to #22 on their 2016 charts. "This year, people can look forward to continuous mixtapes and tracks to follow up Chillout Sessions, as well as ElectroHouse music for those big nights out on the weekends."
For bookings, email rhys.horobin@hotmail.com or contact him on social media.