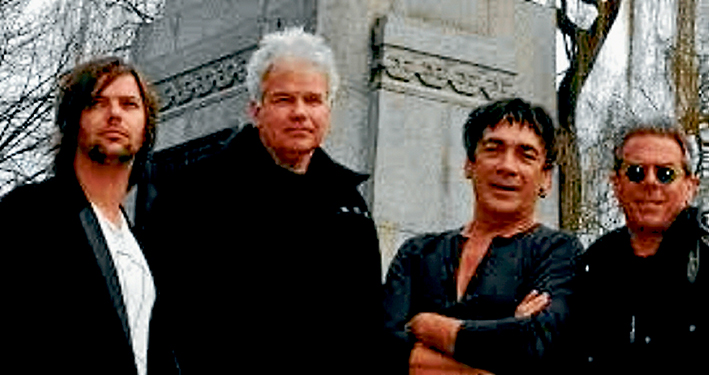 By TERRI LEE FATOUROS
Iconic rockers band Dragon flew into town recently and dazzled supporters with a spectacular show at the Palms at Crown singing their Body and The Beat album in its entirety. 
Why you may ask? 
Well the guys are celebrating their platinum selling album, Body and The Beat 30th year anniversary by doing weekend gigs around Australia. 
The current line-up of founding member Todd Hunter bass, Mark Williams lead vocals/acoustic guitar, Bruce Reid on electric guitar and Pete Drummond on drums have been touring to sold out gigs for the past several years playing all their old hits along with newbies added into the mix, delighting faithful fans while gaining new supporters along the way. 
Due to time restraints in the past they have not been able to play many songs from Body and The Beat so this new tour is dedicated to the album in its entirety.
Dragon's popularity has never died; rather it's been smouldering steadily and fanned by die-hard supporters.
The guys are brilliant. Reid's serious guitar demeanour and Drummond's energetic drumming are the glue in which front man Williams vivacious and friendly manner revs up everyone by endearing them to his cause with much singing and joking throughout.
However, the real genius and master is Todd Hunter. His gentle, soft yet wise visage sparkled notable throughout the entire gig. He sat calmly playing his guitar with sincerity, smiling modestly if someone shouted a request during song breaks,  and answered humbly. 
It's a little known fact that Hunter wrote the hit song, Age of Reason for John Farnham!
In fact, during the years he wasn't gigging or touring, Hunter was busy writing scores for hit TV series Heart Break High, Sweet and Sour and numerous other series, along with the music for the series Pride of Australia. 
Hunter is a very talent musician indeed.
Dragon is still as popular now as they ever were and are still gaining enthusiastic fans especially of the younger generation. They have huge rock credibility, a kick arse beat, and infectious rhythm. 
As the night drew to an end, no one was sitting because everyone was boogying including yours truly with their Body and The Beat.
Check out their new album entitled Dragon, as this is one for the collection.
For info on Dragon go to dragononline.com.au