By TERRI LEE FATOUROS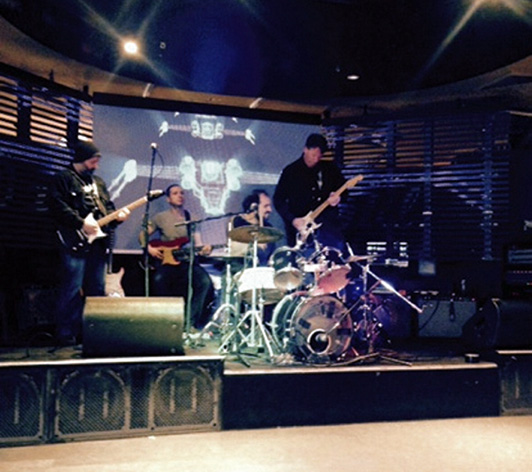 TIGHT, soulful riffs, jazz infused rock, impromptu jamming within structured songs are probably great words to describe polished four-piece outfit, Checkerboard.
Carl Pannuzzo, drummer, singer, and spearhead of the band sits in centre stage front and impresses with his rich dulcet vocals and rhythmic drumming grooves.
Good friend and co-founder, Amos Sheehan, plays bass and their close friendship shows during their playing when they transform together. Shannon Bourne plays electric guitar as does Coburg Tipping and the four of them simply morph into each other's groove during their song set.
Pannuzzo and Sheehan have gigged together for way over 20 years now.  In fact they cranked up Checkerboard way back in 1985 during high school days when the original line up featured Ian Collard.  Small world, it seems.
Checkerboard plays blues-rock, jazzy funk, soul through to psychedelic, and their sound is highly improvisational. That's the difference with this band. They get a song like I'd Rather Go Blind by Etta James, or Drown In My Own Tears by Ray Charles or A Good Fool Is Hard to find by Albert Collins and make it their own.
They'll either funk it up or do cool soul riffs while allowing each other the freedom to improvise and express their creativity within the songs structure.
Says Pannuzzo: "We improvise within our solo playing, and often the actual construction of the direction of the song can be taken from just three notes from one of us. The concept is listening and responding well. We don't intentionally do it. It's just that when we are in the flow and the musicianship is high and you are available in that moment and can respond, then everything can work."
Sheehan sums up: "In a nutshell, we work with world class players and the music we play is pretty much American music from the 1940 and 50's through to present day, if we include modern interpretations of the blues. And the guys we work with are all capable as each know all the standards, similarly as a jazz player would know all the jazz standards. They know all the blues standards so we are able to call a song and get a really vibrant 'on the spot' result, because everyone knows the material, and we are fortunate because we can do this with different players".
"So it can be authentic and reimagined," pipes in Pannuzzo.
"Bourne and Tipping bring in a tasty approach to our sound making and expression, as this band is probably more about 'expression'," concludes Sheehan.
Checkerboard doesn't play often but when they do it's worth listening to. 
Sheehan feels that possibly due to their improvise quality and the freedom they allow each other to play and express within the songs structure they may not be perceived as a blues band as much, (says with fingers in quotes.) He feels it has been difficult for them to break into that scene because they are possibly different or maybe threatening. He's not sure what it is and only guessing. 
Although Checkerboard has never gained a momentum within the blues scene, everyone knows who they are and literally come out in droves to see them play. 
The band is bloody good; they are musos' musicians and regardless of whether you want to pigeonhole them into a genre or not, the simple fact is, these guys are world class and it's time everyone knew it. 
Pannuzzo sums it up saying: "The bottom line is as long as its fun to play then we like to play whenever we can. We are never going to turn up to do a standard gig and keep doing it if it doesn't feel good.
"Also part of it is, 'how do you market us'? You could go with the singing drummer idea or go with the great guitar player, but the reality is we are hard to market. There are many great blues guitarist around. The idea for us is not about cutting chops or pulling out that great guitar solo, because we do have very technically proficient players. It's about playing a song and playing the music. For me music is something that expresses on many deeper levels. I guess we are hard to shoebox and can't be defined enough." 
Checkerboard's long-term ambition is to gig in America, but in their words 'we are musos, not managers', but one day they know they'll get there. 
Checkerboard gigs at at various venues around town.
For information and inquiries contact carl.pannuzzo@gmail.com
facebook.com/checkerboardmusic