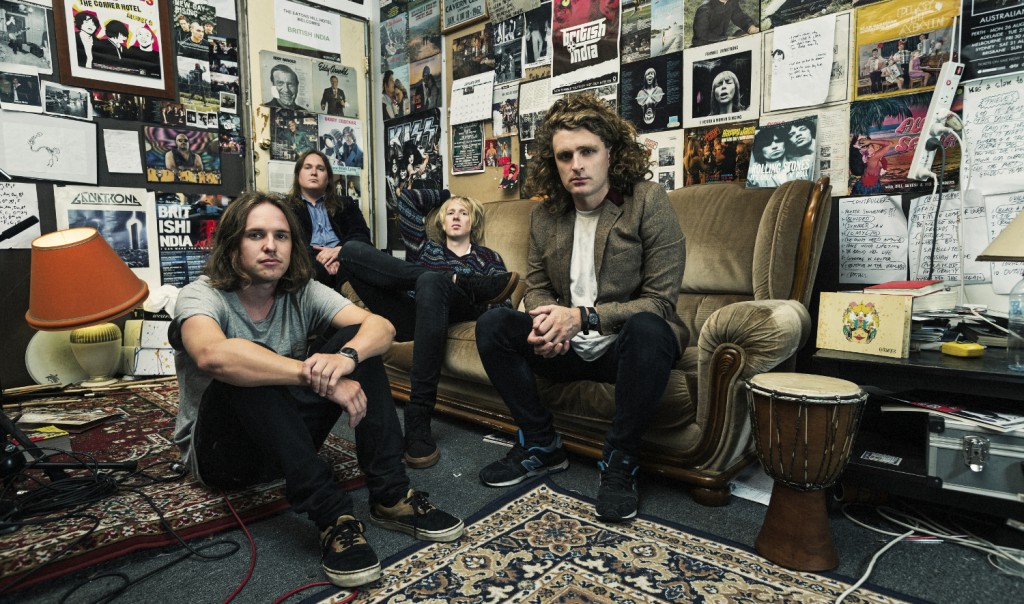 By NEIL WALKER
QUIETLY, just quietly, British India have become one of Australia's best bands. While they haven't fully crossed over into the mainstream yet, relentless touring in far-flung cities and towns and the subsequent good word of mouth has earned British India a well-deserved decade-long career and counting.
Many bands may pay lip service about working hard to win fans but even a quick glance at British India's full-on tour schedule shows they mean it, man.
They'll play venues anywhere, even if it's "not a big college town" as Polymer Records promoter extraordinaire Artie Fufkin once put it.
More often than not, the four-piece from Mentone – singer and guitarist Declan Melia, guitarist Nic Wilson, bassist Will Drummond and drummer Matt O'Gorman – is out there playing live somewhere because they genuinely love it.
O'Gorman told Mint Magazine it's actually British India's lack of mainstream success which has made the band determined to work harder than ever, even after ten years on the road.
"We still like getting out of the house and touring. Speaking to a lot of bands … they say it would be good to tour less but we've still got the desire and the hunger.
"We still feel like we've got a bit to prove, going out and playing. We've never really had that big hit. We've done really well and can't complain about anything [but] we're all still very ambitious and we're always wanting to get to the next level."
Latest album Nothing Touches Me, their fifth, builds on the momentum of 2013's Controller which saw songs such as Summer Forgive Me and I Can Make You Love Me playlisted by Triple M.
The 'alternative nation' at Triple J has always supported British India since their debut single Outside 109 way back in 2005 but Triple M's backing is a new development.
Tracks on Nothing Touches Me such as the opening Spider Chords, Suddenly and Jay Walker show – music journalism cliché alert – 'a newfound maturity' in British India's sound with a mellower tone in contrast to earlier thrashier punk-like efforts.
All four band members write the songs and O'Gorman doesn't reckon the band deliberately set out to make a "mellower" album. He said British India have their own studio "which is an old milk bar" and had 70 to 80 songs to pick from for Nothing Touches Me and some that didn't make the final cut "are punk and grunge".
"When it came to picking the songs [for the album], I don't think it was our intention to be mellower but we picked the best songs we think we had."
As for the rise in the band's public profile, evident in the crossing over from 'The Js to The Ms', O'Gorman gives credit to Mushroom Records and its staff's promotional legwork.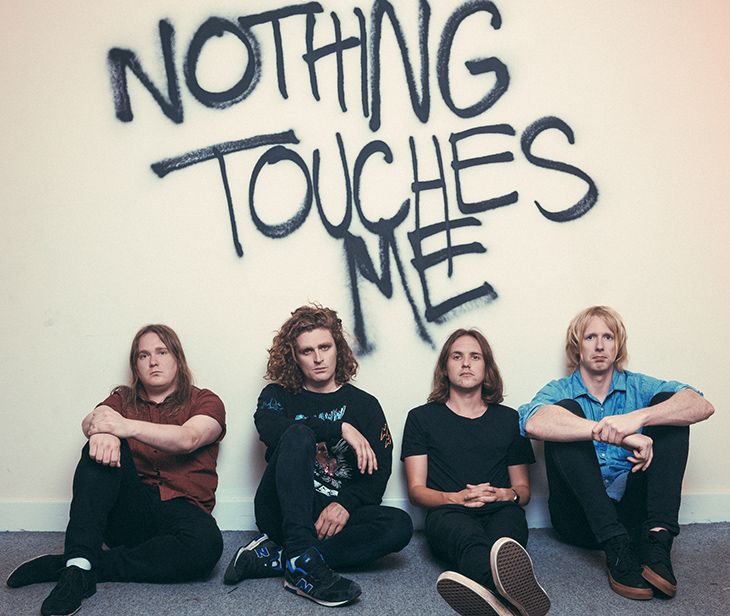 British India released their first three albums independently on Shock Records but suffered a major blow when that label went into receivership owing the band money.
"We were kind of in limbo … we recorded some demos and sent them out. Mushroom heard them and was keen to get on board.
"Since we've been dealing with Mushroom, it's been amazing for a band like us to have 'the Mushroom machine' on board for the last two albums and that's definitely been a big reason [for more success]."
The band hasn't suffered a 'I prefer their early stuff' backlash from the hardcore British India faithful, according to O'Gorman.
"The older fans have stuck by us which we're quite lucky about and thankful for," he says.
"It almost feels like we have two sets of fans. We have the first three albums fans and then the Controller and Nothing Touches Me fans. Sometimes we'll play a couple of old songs and no-one will know them and then other times we'll play Run The Red Light [from 2007's Guillotine debut album] and people will go nuts."
O'Gorman says British India are still committed to the album as a concept, even with the dawn of the music streaming era with listeners able to easily cherry pick individual songs to listen to.
"It's weird how it's all changing. We still feel pretty strongly about albums. It's a lot different now even to when we started. You can put out a single rather than having to put out an EP. You can just literally write and record a song, send it off, get the OK from everybody and it's out three weeks later."
Royalties from music streaming services have become a bugbear for some major artists. Radiohead's Thom Yorke, for example, has heavily criticised the lack of money flowing into bands' coffers.
How does a band at the level of British India feel about this?
"It's not really about the royalties. The thing about Spotify is, it's cheap and you can listen to whatever you want but it's also great exposure to a lot of people that wouldn't have heard your music. Bands like us, we don't really make any money off CDs any more … live gigs are kind of our bread and butter.
"If someone can get on to us through Spotify and come to a show then that's exposure we wouldn't have had before. It's kind of swings and roundabouts in that you really don't make a lot of money off it but you get exposure from it."
From royalties to rock royalty is quite a trip.
Last year, the band met The Rolling Stones when they supported The Stones at NSW's Hunter Valley.
"We got there about 3pm and were sitting in our small dressing room which was a little portable and everything around us is huge – the stage is massive, their backstage area is massive. We heard them soundchecking and thought 'how good would it be to get out there and watch them?'".
They "snuck out" and watched The Stones up close from the front row.
"It was a surreal moment – 'Oh my god, we're watching The Rolling Stones soundcheck right now'."
O'Morgan had heard previous bands who'd supported The Stones hadn't had a chance to meet the legends so British India were "stoked" when The Stones stopped to say "hello" on their way to the stage on the night of the big gig.
It's been a long road on tours over the past ten years to get to where British India are at now, Stones gigs and all, and many of their early Australia music scene peers including The Vines and Jet have either fractured or fallen by the wayside. O'Gorman puts the secret of their relative longevity down to being school mates before the band existed.
"The fact it's been the same four guys really does have a lot to do with it. You hear about bands that as soon as they lose a member … things can often go a bit pear-shaped and I think our kind of dynamic works because we all write. Everything is split four ways."
And if any of the four decided to quit?
"I think everyone would call it stumps … we're all great friends. We've never really had an argument before so we're quite lucky with that as well."
UK music journalist David Hepworth has a theory that the drummer is in fact the most important member of any band and things are never as good for a group if the drummer leaves.
Departures can be voluntary – think Reni of The Stone Roses or Bill Berry of REM – or involuntary – The Who's Keith Moon and Led Zeppelin's John Bonham spring to mind – but somehow the magic that binds a group together is gone.
When this is put to O'Gorman he is reluctant to give his opinion but does declare "that's what I've been saying for years".
"It's in your hands … when the band reads the article they may look at me and think 'Yeah, he's alright – we can't lose this guy. We should give him a raise'."
*British India's latest album Nothing Touches Me is available now.
The band will play live at the Pelly Bar at the Pier Hotel, 508 Nepean Hwy, Frankston on Friday 5 June, doors open 8pm, tickets from $27.
See pierlive.com.au or call 03 9783 9800.