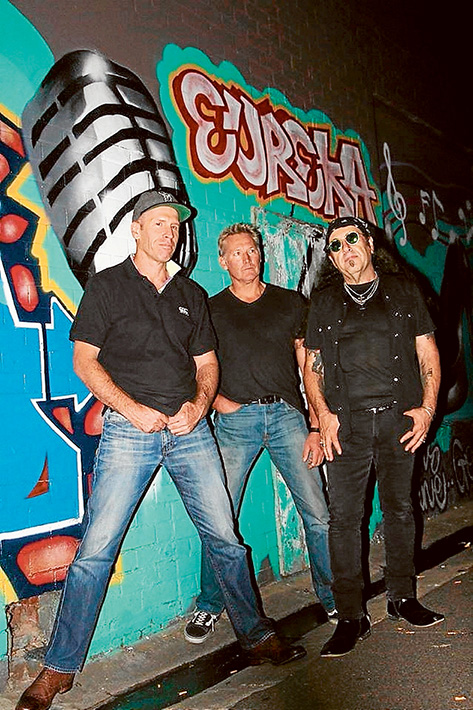 By TERRI LEE FATOUROS
When a band plays covers from the Beatles and Taj Mahal, you'd hope they do it well. Thankfully, Blues Alley not only do justice to songs like Come Together and Paint My Mailbox Blue, they really nail it in making the tunes their own.
Blues Alley is a recently formed blues and rock band with funk, playing covers from Muddy Waters, Rolling Stones, Howling Wolf, Jimi Hendrix, Freddy King and more, with a smattering of originals thrown into the mix. Long time friends Darren McColl-drums and Alex Pavlis are both experienced musicians from other bands, who realised the moment had come to star in their own show. So, Dorian Johnson, an experienced bass player specialising in funk'n'groove, came on board to complete their fresh, bluesy and funky signature sound.
Blues Alley is doing it cool. Amidst McColl's alternating loud rim shots and accented sharp fills, Pavlis' gutsy riffs (albeit flamboyant in context) and Johnson's deadpan "in the zone" expression, the guys are trailblazing their sonic blend to some packed-out venues. Word is getting around that these guys are worth the watch.
Says Pavlis, "when I write, it isn't about being deep and meaningful or political. I have no message in particular except 'I want to have a good time' and 'I want the songs to be good-time songs'. I can swing from writing a heavy blues song to rock'n'roll to swing to whatever I feel like at the time. If I come up with a riff then I'll often get together with Darren, as we have been writing together for the last 40 years, and swing it past him. When we're all together and one of us comes up with an idea, we'll throw it around a bit until we come up with a song. It's no deeper than that.
"I do go through periods when I get into a particular vibe and write a song. I'll pick up the guitar and play a thousand riffs until I feel it's the right one. The lyrics don't have any real meaning in particular. As long as they rhyme and make sense and have a catchy chorus line, then that's great."
No truer words spoken – Pavlis' songwriting versatility is evident with hot little stealers like Working Man Blues, a sexy Texas shuffle. Fill Me Up is layered with swing overtones, while Too Hot embraces a rocky edge and Big Old Ford is a rockabilly rock'n'roll tune. All punch out catchy guitar riffs and tight rhythms.
These three mates bounce off each other rather well and its clear they are having a rockin' good time gigging together.
"I just want to have fun with the band, as I enjoy the enjoyment side of it." Laughs McColl. "If people are having fun with the band, then to me, that's what it's all about."
Blues Alley is currently doing the rounds at some of the peninsula's finest venues, including the prominent Double G Saloon in Mornington.
Glenn Pain looks after the restaurant side of what used to be a little Italian Trattoria, while Glen Bryant runs the music operation, making bookings, researching bands, and ensuring the venue has top-notch blues and rock every weekend. For all correspondence regarding music, give him a call on 0414 496 654.
www.facebook.com/bluesalleymelbourne