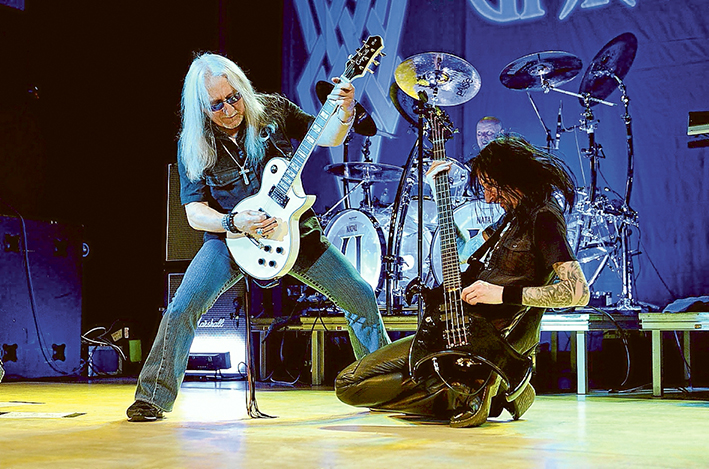 Get ready to welcome back to Australia one of the biggest rock bands of the 1970s on Sunday 22 March as Uriah Heep perform live at the Chelsea Heights hotel.
Once known as one of 'The Big Four' alongside Led Zeppelin, Black Sabbath and Deep Purple, the British rock group have been tearing up the music scene for over 45 years with their unique, progressive, hard sound.
Uriah Heep have been a mainstay of the rock circuit for four decades, famed for their accomplished musical talents, diverse song writing and powerful live performances. It is for this reason that Australian audiences have taken them into their hard rocking hearts with the band scoring consecutive charting albums and singles in the country.
What's more, in 2003 Uriah Heep enlisted the vocal talents of none other than Aussie rock legend Jimmy Barnes on the Relentless album, thus cementing their affinity to this country.
Original member and lead guitarist Mick Box still helms this incredible outfit and played a part in all 23 studio albums that includes Demons and Wizards (1972), Abominog (1982), and their most recent release, 2011's Into The Wild. Their 40 million record sales worldwide speaks for itself.
The band have retained a cult following and a 'never say die' spirit during constant upheaval throughout their history and their performance at the 2013 Download Festival in the UK was hailed as the highlight of the weekend.
If the history of Uriah Heep proves anything, it is that the band will endure, with their diary for the foreseeable future as full as ever. So, be quick to get your tickets to Uriah Heep, at the Chelsea Heights Hotel,Cnr Springvale Rd & Wells Rd, Chelsea Heights, Sunday 22 March, as the group's last tour of Australia in 2011 resulted in sell out shows.
Ticket information at chelseaheightshotel.com.au
by SIMON BURKE