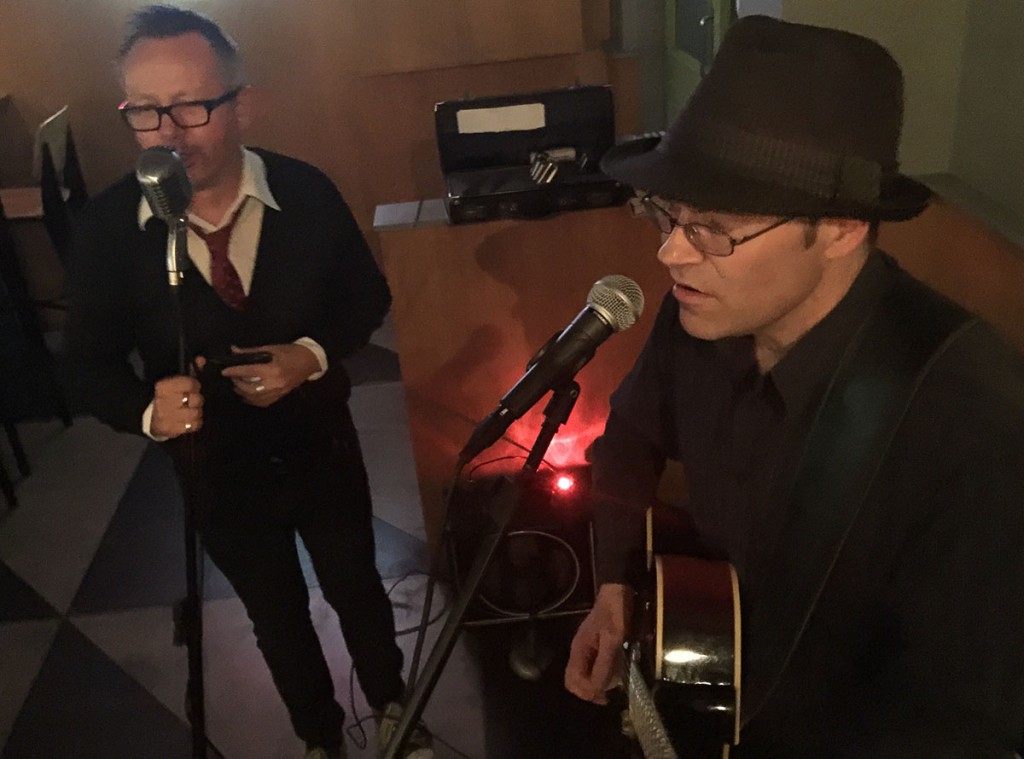 By TERRI LEE FATOUROS
New blues duo Stibbo and Greenhatch AKA Chris Hanger and Luke Greenhatch have been cutting their teeth with solid performances around the burbs of late since their formation a few months back. Together they bring years of experience from other bands to play up-tempo Chicago, Jump, and Mississippi 30s, 40s, and 50s blues.     
Hanger's dry yet rich, mellow vocals makes good contrast to Greenhatch's soul infused, strong pitched voice, and when merged creates a rather unique decent sounding blues harmony. You could compare it to good coffee and chocolate combined; you want to hear more. 
Greenhatch plays a Gibson Archtop semi acoustic guitar, which according to him is primarily a Jazz guitar that gives a rockabilly, jazz feel to a song. Combine this with Stibbo's Hohner special 20s harp and you start to get a feel for the blend of music going on, especially when hearing Greenhatch's originals played in the mix. 
The guys never rehearse and play organically which suits their tone well as it's a different vibe, a different gig and different energy each time they claim. 
During their set they pumped out classics from Howlin Wolf and Jimmy Reed, with particular mention going to Baby What You Want Me To Do, a Reed song but sung in the way Etta James did it, giving it more of a Chicago feel.    
A crowd favourite was a Lloyd Price song called Stagger Lee, which is based on a true story about a guy killing his best mate over his Stetson hat after he lost it to him in gambling. A lot of blues songs have strong overtones of greed, guilt, loss and murder peppered throughout and sometimes it's good to listen to the lyrics to catch the deeper meaning. 
In fact if you closed your eyes while listening to the guys, you could almost imagine standing on a street corner at dusk back in the day in Louisiana or Mississippi, feeling the cooler evening breeze gently blowing the steamy heat of the day away as your body swayed to the rich rhythms and your feet tapped to the rockin' tunes of blues being played.
Stibbo and Greenhatch are gigging regularly at Humdinger Bar at 101 Young Street, Frankston. Call 9783 1382.
Keep a look out for them there and elsewhere around the 'burbs.