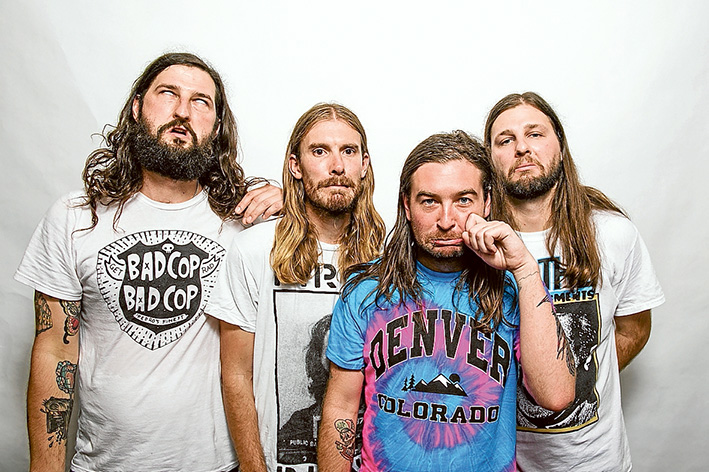 The Bennies recently wrapped up their Wisdom Machine Australian tour in Maroochydore on Queensland's Sunshine Coast. Two weeks and 15,000 kilometres later they were playing a festival in Berlin, Germany. It's indicative of the work ethic for the Melbourne band who have earnt a reputation for not only hard partying but heavy touring.
So far 2016 has been a whirlwind for the band. In January, Wisdom Machine's first single 'Party Machine' reached number 88 on triple j's Hottest 100, some two months before physical copies of the album were even available.
They toured the country and sold out shows wherever they went, including Melbourne, Sydney and Brisbane and while they have always built their name around their live show, with Wisdom Machine, people were now talking loudly about their music.
They graced the covers of magazines, scored album of the week accolades and even infiltrated the charts, with the album debuting at number 40 on the ARIA Album chart and number 10 on the Australian chart. They drew the attention of Less Than Jake drummer, and owner of Florida based label Paper & Plastic, Vinnie Fiorello, who released their album in the UK and US, and they got invited to play at Belgium festival Groezrock, alongside their heroes in Rancid. Spending April and May in their fourth continent in as many years, The Bennies will return home from their European and UK tour, to continue the second phase of their Wisdom Machine tour.
Constantly outdoing themselves with everything they do, this will be their biggest and most expansive tour to date, with 27 shows across each state, regional shows and new destinations they have previously never visited, including Townsville, Albany, Karratha, Werribee and, by popular demand, Nimbin.
Proudly presented by triple j, catch The Bennies pack out dance floors this June and July, supported by Poison City label mates Clowns, who are also fresh from European tour dates. Also along for the wild ride will be Perth punk-rock trio Axe Girl.
Event Details:
When: Wednesday 14th September
Where: Grand Hotel, 124 Main Street Mornington
Contact: 03 5975 2001
Tickets: $25 +bf Online
Book online at www.grand.net.au