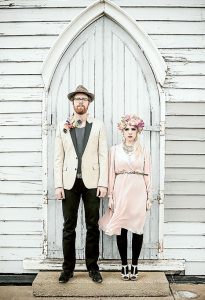 Heartbreaker country and folk music coming to Cube 37 @ Frankston on Friday 22 July at 8pm.
Having been programmed in The Melbourne International Arts Festival, The Brisbane Powerhouse World Theatre Festival, The Darwin Festival, The Adelaide Cabaret Festival, Falls Festival, The Famous Spielgeltent and supporting the likes of Clairy Browne and the Banging Rackettes, Tinpan Orange and Harry James Angus, Miles and Simone are a much loved Australian musical duo.
They are dear friends and have been for quite some time. Both Actors and musicians by trade, they met during a production of Summer of the 17th Doll and have been collaborating on various projects ever since. Miles is a musician, actor and founding member of internationally renowned band and performance group The Suitcase Royale. Simone is an opera singer, cabaret star and creator of the critically acclaimed cabaret The Lovebirds.
Miles & Simone was born in the summer months of 2012, when they found themselves on many an afternoon drinking gin and singing lonesome duets in the backyard. As the months got colder they left the backyard and began recording the songs in Miles' spare room studio.
They eventually put a rough mix of the album into the hands of Darren Hanlon when he took a loan of Miles' wonky old piano. Hanlon liked the songs so much he took them to Portland, Oregon to be mixed by renowned engineer Adam Selzer (She and Him, M. Ward, Jolie Holland) at the famed Type Foundry Studios. As well as that, Darren Hanlon recruited a handful of talented Portland musicians to play on the record.
They released this album independently and the above tours subsequently took place. Since then, they have released another full length album and toured the country in support of it.
Tickets at www.thefac.com.au or phone 9784 1060.
Cube 37 @ Frankston on Friday 22 July at 8pm.