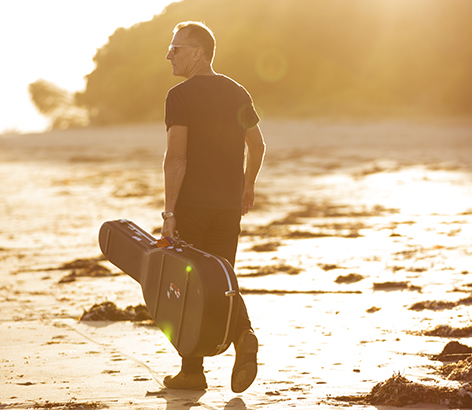 Returning to Between the Bays for the fifth time, old favorite James Reyne will grace audiences with his presence again with a repertoire from his 30 year career.
"We will be playing a good cross section of music from my Australian Crawl stuff to solo songs, right across the whole spectrum," says James, who has been involved with the festival since its inception 10 years ago.
"I first became involved as my daughter was going to the school. When Paul and Vivienne came up with the idea for Between the Bays to raise money, they asked me to perform. I was just like any one of the parents there," he says. "The people who run it are lovely and they run it very well. It's a great day out for the family, with lots of stuff for the kids to do and great food and wine as well."
With James' reputation for all things charitable, and having just received an OAM for his charity work, there is a synchronicity to the performer's involvement, with the money raised going to the Wugularr School in Katherine.
"I don't really have a lot to do with the cause but I know it is a terrific one and Penbank School do a great job with the music festival," says James.
With a career spanning three decades, first with Australian Crawl and then his solo career, James still has no idea where he gets his inspiration from.
"I really don't know. I just write the songs and get inspiration from where I always have," he says.
For James, 2015 looks promising with a new band and new album by The Magnificent Few, the first album to be a new EP of songs.
The band features James on lead vocals, Phil Cebrano and Brett Kingman on guitar, Andy McIvor on bass, and John Watson on drums.
Now in its 10th year, Between the Bays is firmly established as Mornington Peninsula's best, annual music festival on the summer calendar – a day not to be missed. Over the last decade, Between the Bays has offered music lovers a festival option that is safe and entertaining for everyone, is inexpensive and has an all-inclusive community feel. This year, along with James Reyne, artists will include Mark Seymour, Custard, Wagons, Sweet Jean, Combo La Revelacion, Indigenous Hip Hop Projects and The Billabong Boys.
Between the Bays is on Saturday 28 February at Penbank School, Rickards Road, Moorooduc.
Tickets are on sale now via www.betweenthebays.com
By MELISSA WALSH