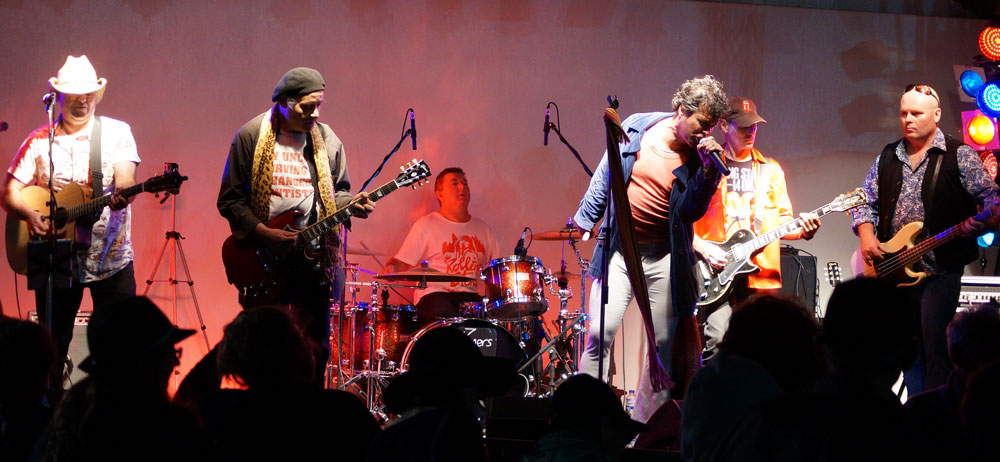 Rolling Stones tribute band, Jaggers Banquet, played to their biggest crowd to date at last month's Waterfront Festival, when they performed to an incredible 2500 people.
The band, which started in 2005, saw a niche in the marketplace with no other Rolling Stones tributes acts in Melbourne, and it has already been quite a ride.
Lead singer Brad Coppens says the show originally started as a non-look-alike concept based around the music but has developed into a more colourful performance.
"It is now a high energy Mick Jagger 70s style show, and we play off the record or recorded live version, doing sets in character," says Brad. "We don't go for a full look alike but a definite feel with the same dance moves and mannerisms as the Rolling Stones front man."
"We were the headline act at the Waterfront Festival and played from 8pm till 9.45pm. The crowd response was amazing. It's the biggest crowd we've played to and yes I was a bit nervous as the time came to go on stage, but the adrenalin kicked in and we cranked out Jumpin' Jack Flash as our first song," he says.
Jaggers Banquet band members include lead guitarist, Adrian Chynoweth of ex Nick Barker and the Reptiles fame, who reformed in 2012 for a series of gigs, and has been in the band since day one.
Drummer Darren McCarthy joined early days and now manages the band.
"Dave Miles is our regular rhythm guitarist and vocalist, however Jeff Weiner played the Frankston gig and has filled in many times for us and adds a distinctive Mick Taylor sound to the performance with his skill and Gibson SG guitar," says Brad. "Ian Smith plays bass, and we had Tony Bonnici play acoustic guitar and backup vocals to make sure we had a full sound for the huge crowd."
For Jaggers Banquet, it was the longest set they've played in Frankston, and one the guys all agree will be memorable.
"The festival was basically 100 minutes of hit songs which kept the crowd dancing right up to the fireworks at 9.45pm. We hope to be invited to play next year as it was a lot of fun," says Brad.
For information on booking Jaggers Banquet – Australia's Rolling Stones Experience, call Nick Karr from Bands Plus on 0403 539 946.
By MELISSA WALSH