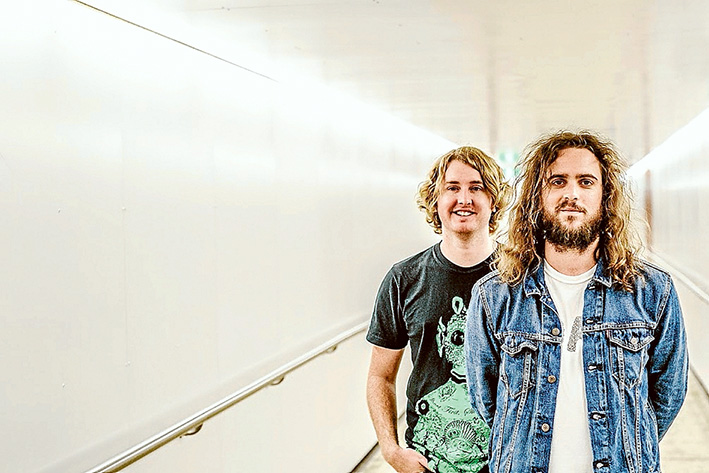 It's been a little while between drinks for Bundy's most notorious thrash party duo, DZ Deathrays, but it is with great pleasure that we reveal their brand new single 'Blood On My Leather'. The track, which is a standalone single, had its world wide premiere on triple j last month and will is now available for purchase and streaming.
Late last year the pair decided to head back into the studio with producer/friend Burke Reid (of Gerling) to record a one-off single titled Blood On My Leather. Bursting through your headphones from the first bars, Blood On My Leather opens with Ridley's blown out drum kit bellowing through your speakers almost as a warning for the impending chaos, which is only moments away. Before listeners have a chance to gather their thoughts, Parsons enters the track with his riff heavy guitar work and trademark scowl vocal like a somewhat uninvited but absolutely necessary gate crasher. The song itself continues to twist and turn, revealing moments of melodic calmness that are only too quickly swallowed up and spat out by full throttle party riffs and lyrical ferocity.
West Australian friends, don't miss DZ this month playing Raised In The City at The Metro and Hyperfest in City of Swan. The duo will again be on the road this April and May blowing minds and ear drums through regional towns and centres on the Groovin' The Moo festival run. Be sure to catch their set!
With two ARIA wins under their belt for Best Hard Rock / Heavy Metal Album two years running for their 2013 debut Bloodstreams and follow up 2014's Black Rat, we're psyched the guys have been back in the studio producing the kind of face-melting sounds we've become accustomed to expect from DZ Deathrays. We can't wait to hear more!