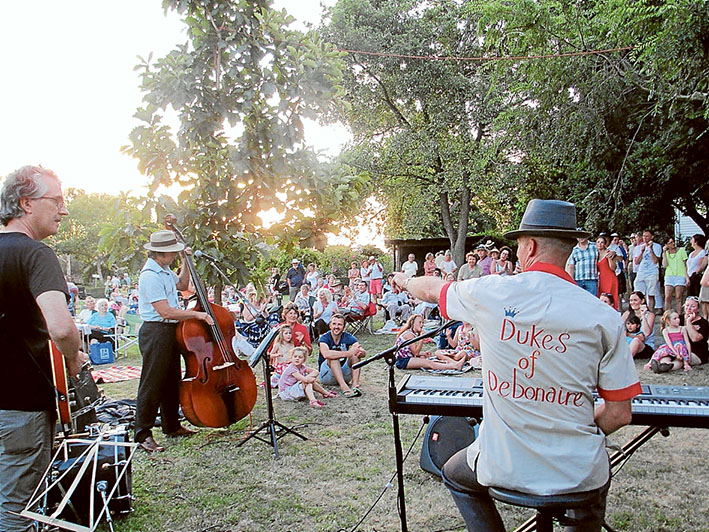 Head on down to Cruden Farm on Saturday, 19th March and experience the sanguine tunes and thrilling beats of Twilight Jazz.
Artists playing on the day include Mrs. Mippy Dixieland Jazz Band, Dukes of Debonaire, the Beckitt Brothers & The Frankston High School Senior Stage Band, directed by Leon de Bruin.
Music will fill the evening from 4.00pm to 8.00pm, but the gates open at 3.00pm for the early birds looking to score a seat up close. Entry is via Cranhaven Road, Langwarrin
It's the only event at Cruden Farm that takes in the gardens at twilight.
Bring your picnic basket, rug, table & chairs and sit back and enjoy the ambience and surrounds of the beautiful gardens and lakes whilst being entertained by a variety of bands across two locations within the grounds of Cruden Farm.
Browse the gift stall or purchase Elgee Park wines, soft drinks, tea, coffee or the ever popular gourmet sausage sizzle.
Tickets cost $20 if pre-purchased, which includes a $3 non-refundable booking fee. You'll have the opportunity to pre-purchase right up until 3pm on the Friday,
For those who rock up on the day, tickets will be $25 at the gate, but either way your purchase includes a free coffee at McClelland Cafe, valid from 20th March to 30th April.
Children under 12 get in free! Call 03 9789 1671 for bookings or further information.