By TERRI LEE FATOUROS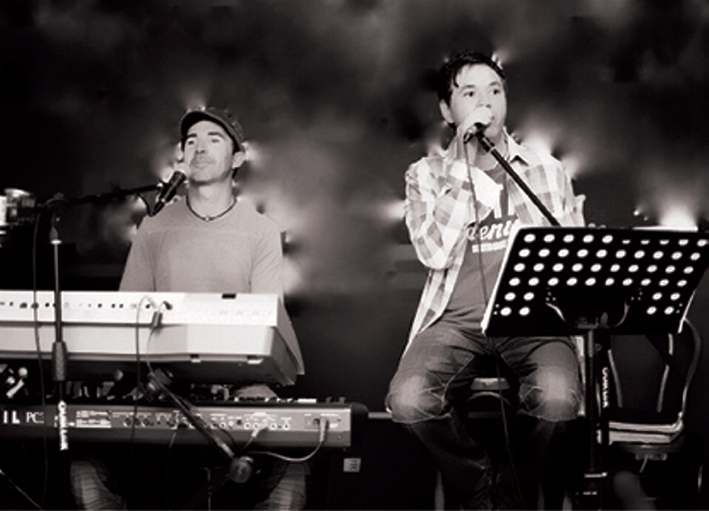 I was completely charmed recently when Lorenzo Iannotti (vocals) and Robyn Amato (keyboard), an amiable duo known as Something To Talk About, or STTA, dedicated and sang my favourite song, Hallelujah by Leonard Cohen to me at beach 162 in Frankston. 
People had been saying how good these guys are so I decided to see for myself. 
Iannotti's voice provides that essential human element that initially hooks listeners into music and reels you in. 
He studied classical music at Melba Conservatorium of Music, which he attended on a scholarship, an experience that has honed his natural singing ability into a versatile and accomplished instrument. This great voice got him the lead role in Jesus Christ Superstar along with various radio and TV appearances, including The Bert Newton Show.
Amato has performed with many of Australia's prominent musicians. Highlights of his career has seen him gig with Max Pelican, (Elvis to the Max), Cyndi Lauper, Vanessa Amorosi, Bert Newton, Peter Sullivan and Tony Pantano to name a few. 
The boys are great friends and this is evident throughout their performance. In fact, musically they know each so well, that often Amato's cruisy piano playing suddenly diverges into melodic, spontaneous riffs within the song being sung.
The same can be said for Iannotti. He writes original rock infused ballads, which showcases his silky voice beautifully.  He'll break free unexpectedly and pump out an operatic twist on a popular cover or sing one of his own with hypnotic deliverance. It's delightful.In a way, their show is more like a mini cabaret performance scaled down to suit a duo. These guys are seasoned, professional showmen. 
Says Amato: "We are not stuck in a song and often we create parts of it as we go along. We know each other and our music so well that it manifests as a musical extension of us."
They crack a joke, give a little insight into the song they're about to sing, make you feel at home and most importantly, acknowledge and include you in their world thereby creating a comfortable intimacy with you. Somehow you get pulled into their bubble of entertaining magic.
STTA has been gigging to corporate and the general public for well over 15 years. With a massive song list of over a 1000 songs, encompassing jazz, rock, pop, R&B, country and classical, including Italian arias, it's no wonder the boys are booked out five nights a week and have a strong fanbase. 
In the past Amato owned cafes and his love of coffee has followed through in his new business called Verita, a coffee roasting business he runs from home. Verita means 'truth' in Italian and he says this coffee is smooth and outstanding in taste. 
Iannotti runs Bloom Entertainment By Design, an entertainment company sourcing band, actors, MC, singers, etc, for corporate and private sectors. 
Something To Talk About is now appearing every Thursday at beach 162 in Beach Street, Frankston from 7pm.
Why not surprise yourself like I did recently by taking yourself down to their show? I'm going back.   
For info see
veritacoffee.com.au | bloomentertainment.com.au