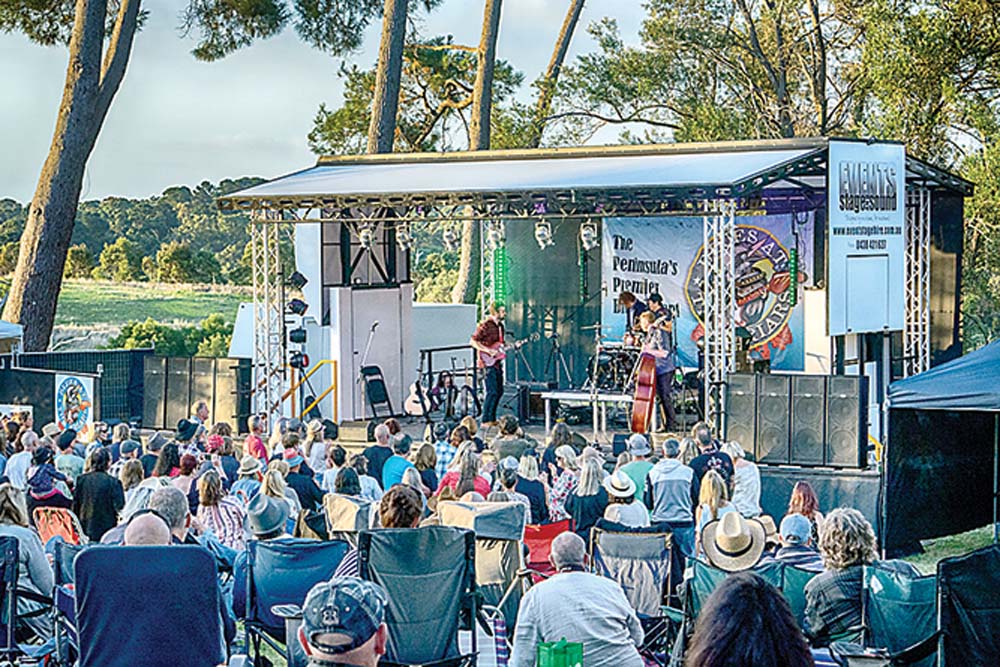 Fresh off the back of 2017's epic festival, Blues At The Briars returns on February 24, 2018 for its sixth celebration of blues and roots music on the Peninsula.
A combination of great music, amazing food and wine, and a dedicated children's area make this day a must in everyone's calendar. The Peninsula's best kept secret keeps delivering in the amazing rural setting of the historic Briars homestead and surrounds. Bring a chair or a picnic rug and soak up the landscape and vibe while listening to the best bands from Australia and abroad.
February's festival is shaping to be the best yet. A.J. Ghent (USA) constructs an indie rock sound howling from the church to the blues. His style can be defined as fresh, nostalgic, electrifying and rootsy, fusing blues, funk, R and B, hip hop and dream pop into a genre he likes to call neo blues.
Z Star Delta (UK), described as the love child of Jimmy Hendrix and Nina Simone, takes you on a personal and spiritual journey to experience her intense magic. Come and experience her live at the Briars.
Blues At The Briars are also proud to announce the triumphant return of the best boogie pianist on the planet, Ben Waters (UK) joined by Derek Nash the best Sax player going around. Derek is regarded as one of the UK's most prominent and versatile saxophonists, playing with the Jools Holland Rhythm and Blues orchestra since 2004, performing live with artists such as Eric Clapton, Paul McCartney, Amy Winehouse and many more. Along with many more homegrown bands and artists from around the country, this line up will be awesome. Keep an eye on the Facebook page and website www.bluesatthebriars.com for more artist announcements coming soon.
The team at Blues At The Briars takes great pride in showcasing not only established artists, but up-and-coming talent. The Teskey brothers who were a highlight at this years festival have not stopped touring throughout the UK and Australia, supporting such iconic acts such as Midnight Oil, Rag and Bone man and headlining in their own right.
This year Blues At The Briars have pulled out all the stops with a sound and lighting upgrade so the tunes will be crisp and clear for all to enjoy.
The VIP area returns with amazing food and drink packages, in a dedicated marquee where you can enjoy the show in luxury. Treat yourself this indulgence and make it a day to truly remember. Not many VIP areas have a prime view of the stage like this. Tickets are limited for the VIP marquee so get them quickly.
For the younger blues lovers we have a safe area to roam and enjoy. Face painting, balloonists, and bouncy castle, with arts and craft to keep them amused. If you are looking for somewhere fun and funky to take the family look no further. Children under 14 are free!
Entry costs are kept as low as possible to enable everyone access, with disabled access, easy parking close to the gate and friendly volunteer staff to ensure your experience is enjoyable and hassle free.
A fully stocked bar with very reasonable non-festival prices will be open all day.
Blues At The Briars 2018 is a special, immersive, family-friendly experience that will stay with you long after the last notes have been played.