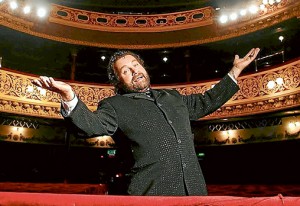 'An Audience With His Grace' opened at The Gaiety Theatre on Wednesday, and Brendan Grace received a standing ovation from a thrilled audience … His gags have a great hit rate and delight a capacity crowd. After 44 years in showbiz, Brendan Grace still knows how to send them home smiling."  – Eamon Sweenie, The Irish Independent, 25 March 2015
Born in the heart of Dublin in 1951, Grace was raised in the inner city Liberties neighbourhood. His father Seamus worked as a bartender, an ambulance man and other odd jobs to keep the family going. However, like many Dubliners of the time, Grace eventually left school at the age of 15 to begin working.  His first job was as a messenger boy, an occupation he often refers to in his live act.
At the age of 18, Grace formed a band known as "The Gingermen" and toured throughout Ireland. During a gig one night, the band found themselves two members short and in an attempt to calm an anxious crowd, Brendan was thrust upon the stage to humour them. His wit and razor sharp observations of daily life in Ireland immediately won over the crowd and since then he has been selling out venues around the globe. 
Brendan has shared stages with many well-known names such as Frank Sinatra who referred to Grace as "His man in Europe" and John Denver, among many others. 
'An Audience With His Grace' features some brand new material and some "old favourites" from his vast repertoire over the past 40 years including the brilliant school boy character "Bottler".
He has managed to attract a younger audience due to the content of his show being very down to earth and helped also through his hilarious appearance in Father Ted, where he played the part of a drinking, smoking, troublemaker extraordinaire, Father Fintan Stack.   
Join His Grace for an evening of high farce, mirth and music.
An Audience With His Grace performs at Frankston Arts Centre on Friday 13 November, 8pm.
Bookings: 03 9784 1060 or thefac.com.au