By MELISSA WALSH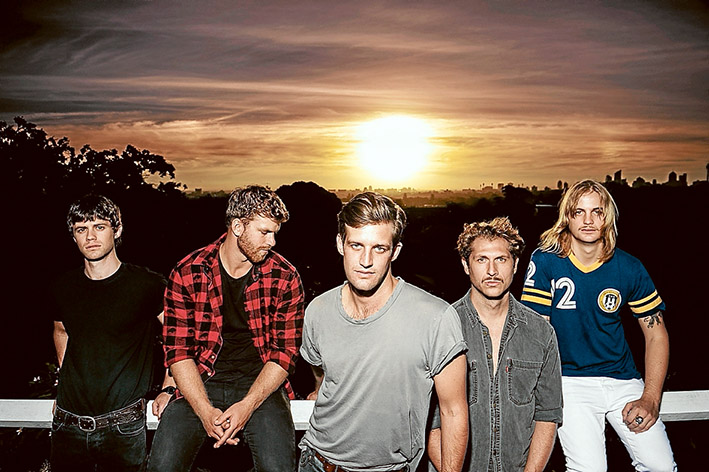 Since hitting the music scene in 2012 The Rubens rise to fame has been quite a trip for the five lads from the small NSW country town of Menangle, and band member Elliott Margin says they are grateful and blown away by their success.
"There's heaps of good bands out there that don't make it so we're well aware that it's part timing and luck," says Elliott, whose good looks have been compared to One Direction's Harry. "It's been full on since we started but when it happens it's a dream come true. I was 17 when we played our first gig and I wasn't allowed in the venue so had to have a wristband at Candies nightclub in Sydney. We played to about 30 friends and family."
After that gig the band started getting gigs here and there, and by the time they had played 15 shows, were on a plane to New York to record their first album.
"New York was fantastic, we were there for maybe two months recording. I'd been overseas but nothing like that. It was so much fun, but we had no money, survived on about $10 dollars a day just eating pizza. We came back and had lost weight cos we couldn't afford food. I remember mum was freaking out when we got off the plane, we were white and pasty and skinny," says Elliott.
A far cry from today with The Rubens shows selling out across the country in the wake of the release of their second album Hoops which has already been nominated for awards, including Triple J Album of the Year.
"The album has had a good response but you work on it for so long then have a release date and it takes time for people to listen to the songs and see how they feel about it. By the time this tour rolled around and we started playing shows we realised the positive feedback," said Elliott.
"We play at big venues with 2500 people and smaller more intimate places but they are all fun."
For the boys the process of writing the new album was a lot more cruisy, with the band taking off to a coastal hideaway to concentrate on writing.
"When we started writing songs for Hoops we decided to take some time out so went to a house on the NSW coast and stayed there and wrote. We knew we had a bit to live up to. When we released the first album no one really knew us but this time we had to do it even better," said Elliott.
The Rubens first album reached certified Platinum sales in Australia, the lead single winning the APRA award for Best Rock Work, and received five ARIA Award Nominations, so for the guys Hoops had a lot to live up to.
But fame and fortune hasn't changed the laidback attitude of the band, consisting of three brothers, Zaac, Sam and Elliott Margin, and their mates Scott Baldwin and William Zeglis.
"We still live at home with mum and dad, it's just easier for us when were so busy writing or out on the road," says Elliott, whose parents are so proud and love going to gigs to see the boys play.
"Mum and dad always made sure we learnt music when we were kids but when I was younger mum had to bribe me with a lolly to learn piano," he says with a laugh.
"Eventually I really got into it and just kept going," says Elliott, admitting they all get treated exactly the same at home . "I know they are so happy for us, and understand how unlikely it is to be successful. They love coming to see the boys on stage."
The songs on Hoops are more assured and show a greater range of what The Rubens can do. The lyrics telling tales collected over two years spent on the road, fuelled by boozy late nights (The Night Is On My Side, Hold Me Back) and that old chestnut, love (Hoops, Bitter End, Cut Me Loose).
With Hoops, The Rubens have shown that their previous success was not a fluke. Through months spent on the road and tucked away writing relentlessly and never taking themselves too seriously, it's no wonder they've managed to write an album full of timeless rock tunes.
"The tour has been going great, 23 shows and the best we've ever played in terms of crowd reaction. We have a pretty broad mix of fans these days, from the young kids to even noticing groups of guys having an awesome time singing along to all the songs."
Check www.therubensmusic.com for future tour dates.