By MELISSA WALSH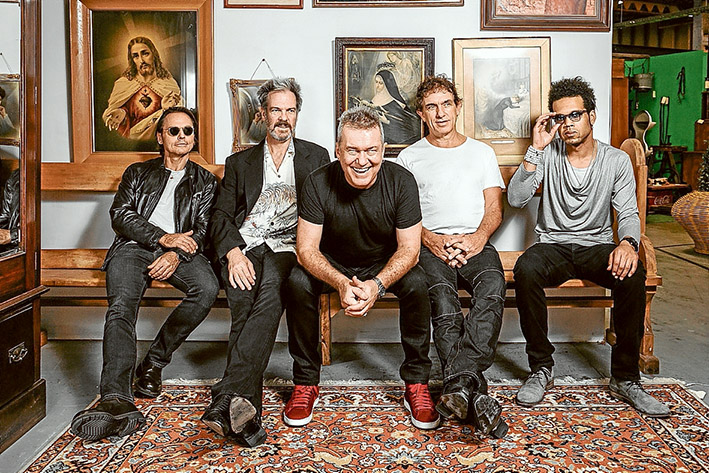 Cold Chisel is back with a vengeance, performing a heap of One Night Stand shows, to coincide with the release of The Perfect Crime, the follow up to their 2012 comeback studio album, No Plans.
Kicking off with the Deni Ute Muster, the One Night Stand shows will take in towns in regional areas across Australia, as well as major towns and cities with recently released shows in Geraldton, Adelaide, Melbourne and Sydney.
The highly anticipated tour will see Grinspoon as special guest on seven of the shows.
The album features songs drawn from recording sessions across 2014 and 2015, kicking off with the single Lost which has already been well received.
Described as "the most rock and roll album" Chisel has ever done, it's a combination of the old crew getting together to create something they've been wanting to do for years.
Ian Moss says the album is a true rock and roll album in the sense that the energy levels are really high.
"It's the most number of tracks that are up-tempo with high energy levels, and an album that we've been trying to make for years," says Moss. "The others were more hard rock. While music is an evolving process, every track on this album was intentional."
Moss says that putting this album together has been a steady cruise of getting songs together.
"It was like the old days when you're keen and you've got the whole band writing songs. In those days if you were fortunate enough to get a record deal, you would have to follow it up soon with another album. The pressure was on to turn it around in far less time. When we released No Plans, everyone kept writing and building up more songs. As soon as we had enough tracks, we got back together and started laying them down."
Moss and the lads started laying down tracks in July last year, and the album is one that they're excited about, with 2015 shaping up to be one of the biggest and best in Cold Chisel's unparalleled four decade career.
When it comes to longevity, nobody does it better than Cold Chisel, which Moss says is about the songs first and foremost.
"One of the main reasons is Don Walker's belief that your songs have to be written from the heart. He is adamant about that as that is what makes a good song last. They have to mean something to people and he is pedantic about every last word and syllable. When I write I have to believe in every part of my songs. It would be easy to force words but you have to feel it in your heart, so I follow the same principle," says Moss. "I live and write and keep trying to improve as a writer."
Born and raised in Alice Springs, Moss joined his first band when he was 14 and within a year had started his own band. At the tender age of 18, he started with Cold Chisel and hasn't looked back, enjoying continued success with the band and with his own successful solo career.
"When I started with Cold Chisel I was very young and still trying to figure things out. I had been in different bands but hadn't found the perfect fit until then," he said. "With Cold Chisel we knew straight away we had something going."
He sure was right, with 6.7 million albums sold in Australia, ARIA Hall of Fame inductees, thousands of sellout concerts across the country, and eight albums entering the ARIA top 100 album chart, and by 1980 being the biggest band in the country.
"When the band dispersed after 11 years it was kind of sad but we all wanted to go off and do our own thing. It was our chance to go solo and do other music that didn't suit the Cold Chisel style," says Moss, who by then enjoyed the status as Australia's best guitarist.
After five years of nurturing a new sound, Moss finally released Tucker's Daughter, which he wrote in collaboration with Don Walker. The anthemic song sat in the top 10 for eleven weeks and then hit number one for two weeks, and his solo career had begun.
For Moss, the challenge with his solo career has been becoming musically educated in the area of jazz.
"You always keep learning, and I continue to work on developing and feeling more comfortable in the jazz and blues area, doing songs like Georgia on my Mind well," says Moss, who will put aside his solo career for the next few months to concentrate on the One Night Stand tour.
"We're all looking forward to getting back out there, performing at the Deni Ute Muster, Hanging Rock and places like that," says Moss, proving that the Cold Chisel chemistry has not evaporated with the passing of time. It is well and truly palpable, giving fans the real Cold Chisel experience once again.