By ANDREW DIXON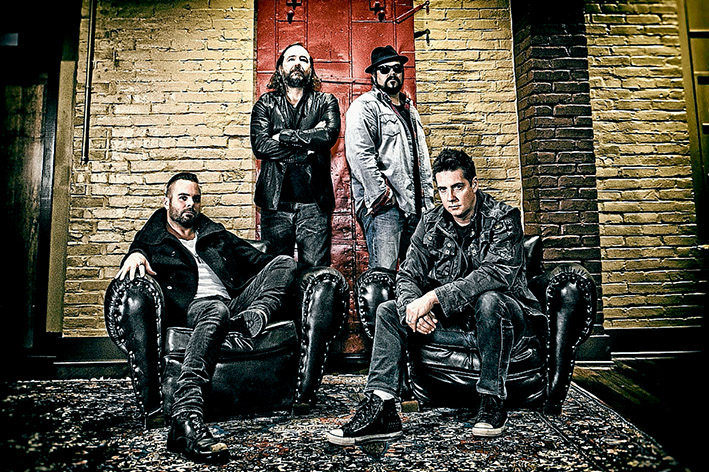 "Entrepreneurial" isn't a word you commonly associate with multi-platinum rock stars. Nor would you expect them to admit that, sometimes, building communities and creating jobs in the real world can be "much larger than band stuff." Live's new (ish – he reminded me it's been almost four years since he signed up) frontman Chris Shinn has the presence of mind to acknowledge the way the world works outside the occasionally insular and often narcissistic music industry.
That's not to suggest he and the band – original members Chad Taylor, Pat Dahlheimer and Chad Gracey – haven't poured heart and soul into the creation of Live's late-2014 album The Turn. "We spent so much time making it and we're so proud of it… since a lot of our outstanding business issues have finally been resolved, we'll have to do a whole new push for The Turn… to give it the fair shake it deserves," states Chris.
Those 'outstanding business issues' aren't exactly another publishing company or record label, they're multi-million dollar fibre-optic cable networks, spanning some of the most populous cities on the United States' eastern seaboard. The company: United Fiber & Data.
NBN-style nation building is the idea here. Ailing Pennsylvanian cities – including York, from whence the band originally hails – stand to benefit socially and economically through downtown renovations, hi-tech jobs and (if all bodes well) a massive data storage centre or two, in what both the local politicians and the company hope will usher in a new era of employment and prosperity. It's the first rock-solid example I've seen of a band 'walking the walk' in putting their fortunes on the line to build prosperity in their own back yard, and a damn-refreshing change from 'yet another benefit concert' style activism.
"It's a lot of zeros," Chris explains, adding that it's definitely "slowed down the booking of tours and so-on… we're working with the kind of big money that you can't keep waiting!" It's a matter-of-fact reference to the New York finance industry the Chads and Patrick have been heavily involved in during the band's hiatus. "It's been a ton of hard work… Chad Taylor's been the driving force pushing that, and so far as dudes thinking about our families and the future, it's brought us a lot of cool opportunities that otherwise never would've been there."
But now the gloves (or more likely, the suits) have come off and they're hitting the road, bringing the band back to Australia for the first time in years. Once upon a time their presence at Rod Laver Arena was an annual event, but in 2009 a supposedly-voluntary hiatus became a permanent split, with lead singer Ed Kowalczyk and the others no longer able to work together. Ed's since embarked on his solo career, and while he does pull out acoustic versions of Live's hits, the intellectual property remains with the band. The multiple lawsuits that resulted were settled out of court, so we'll never know the gritty details.
Somewhat ironically, Ed and Chris were good friends once. "He used to live just up the hill from me in Hollywood. At the time, Ed and his wife were pregnant with their first kid, so we only got one night a week to go out – we made the most of that!" Despite keeping in touch via whatever the social network of choice happened to be at the time, Chris gradually lost touch with Ed and the rest of the band. A full five years and a whole lot of dirty water had passed by when the Chads and Patrick once again got in touch with Shinn. "It wasn't 'hey, can you start with Līve today?' or anything like that at all. I said I'd come to Pennsylvania to hang out with you guys, at the very least we'll get a beer together, and if it doesn't work, it doesn't work. They just wanted to play some music… the guys had never played these songs in a room without Ed, obviously. Nobody expected it to feel as awesome as it felt."
Chris is all too aware of the delicacies involved in reigniting the flame of Live with a new singer at the helm. "We had to talk this out, make sure we do it right, because a lot of people are going to take this the wrong way, it's going to piss a lot of people off… ultimately though, that's fine – the guys deserve to be happy with the band that they created. There's a lot of arguments both for and against (keeping the name Live without Ed Kowalczyk), and honestly I understand both sides." Collaborative diplomacy has been an essential skill – "It just wouldn't have worked otherwise."
Shinn's gone out of his way to make sure that approach to the band's political issues has been fully translated to their creative dynamic. It's been said that Ed took the creative reigns for the band's last couple of albums – whether or not that led to their faltering fanbase is open to interpretation.
"I couldn't come in with a big bunch of lyrics and say 'this is how it's going to go'… we had a serious discussion about this before we even picked up our instruments. I don't want to be in a Live that's at the tail end of their career there, I want to be in the Live that's kicking f**king ass! The band that I loved growing up, that mystical, crazy, spiritual band they (Chad, Chad and Pat) said they missed."
To that end, all four had a number of roundtable discussions over the course of writing and recording. "I even got Chad Gracey (drums) to help me out with the lyrics, which he never does! It's great – I want everyone involved, so I'm constantly asking questions and seeking feedback during the process. Those three guys are some of the baddest mother f**kers I've ever played with!"
On a more intimate note, close to Chris' heart is their latest single, The Way Around is Through. He considered it an integral part of the healing process, a way for all of them to move forward while accepting Ed's absence. "I've spent some time in recovery, as have some of my close friends. Something that you hear a lot is that you can't skirt around these problems, eventually you have to go through them. At the time it really tapped into the raw feelings of the whole band. It was instrumental in helping the guys let go… we had to sit down and do the real work, the spiritual work, and do it together. The record became like therapy for all of us – it reminded everyone exactly what they're capable of doing, and likewise they would let me know on a daily basis: Do whatever you can do as best as you can do it. We've got your back."
The healing process appears to have paid off. A real test will be how Australian audiences react to Chris Shinn's first-ever Australian tour. "I'm a little anxious – it's a very long trip – but we're flying business, so we should be OK!".
Laughs were shared, even as we discussed his level of responsibility as the face of Live going into the future.
"It took me a while to accept a lot of that responsibility, to nurture it and do it the right way… it's like being given the keys to someone's Lamborghini and them saying 'let her rip!' I don't mean to sound narcissistic, but over the last couple of years we've really become something else, something special. I'm proud – we put the work in, and anyone that comes to see us… you'll get what I'm talking about."
Live are playing with Def Leppard at Rod Laver Arena on Wednesday 18 November this year, but have their own solo show at the Forum Theatre on the 19th.
Tickets are available from Ticketmaster.