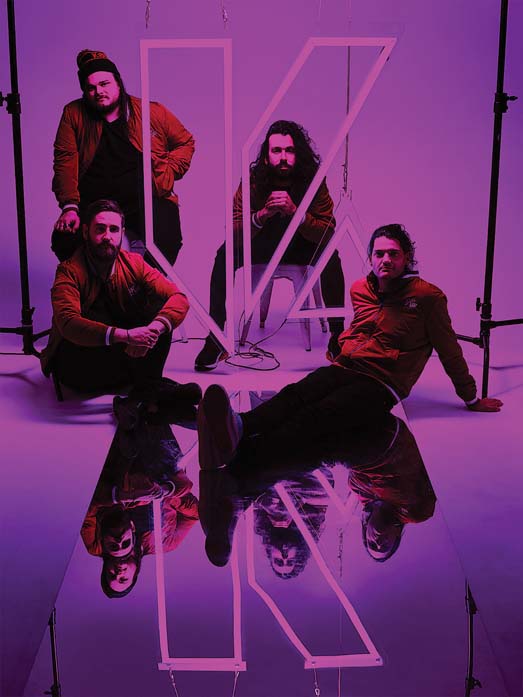 THUNDEROUS serpentine space-rock and smouldering falsetto R'nB. Stadium supports for Aerosmith and AC/DC and earnest covers of Destiny's Child and First Aid Kit. Fly-by-night gigs in war-torn Afghanistan and recurring religious pilgrimages to the wood-grained heart of Nashville.
Welcome to the world of Kingswood. Don't be confused by the veneer. Like the iconic Aussie car of the same name, it's all about what's under the hood.
"We wanted to make something that would rival Abbey Road," guitarist Alex Laska told Rolling Stone magazine in the throes of their second album, After Hours, Close to Dawn. "I know it sounds insane but if you don't strive for that kind of thing, what are you doing? Seriously, what are you doing?"
The goal posts refuse to yield on the Melbourne rock quartet's third album, currently under construction across four studios in Sydney and Nashville. The first taste, Messed It Up — all sinewy synth-soul compulsion with a restless rock undertow — presages another stunning act of evolution.
"We're a band that, in a philosophical way, wants to continue to change," says singer Fergus Linacre. "We don't want to make the same record twice and the support we've received so far has made us realise that we actually can do whatever we want. It's a great position to be in."
OK, let's back up here…
It's six years since Kingswood first crashed the teeming Australian touring circuit, raising the stakes for iconic headliners as diverse as the Saints and the Living End with balls-out and belching rock singles like Medusa, She's My Baby, Sucker Punch and Ohio.
Their debut album, an electrifying act of hard rock sophistication called Microscopic Wars, was made at Nashville's Blackbird Studio with multi-Grammy-winner Vance Powell (Jack White, Arctic Monkeys, Kings of Leon). It made directly for the Top 10 in 2014, followed by nomination for that year's Best Rock Album at the annual ARIA Awards.
"In the early days we were like a Led Zeppelin tribute band," Laska recalled with amusement at the time, reflecting on how far they'd already come before adding, tellingly: "one of our first projections was to be respected by other musicians."
It took that kind of ambition to follow up with 2016's After Hours, Close to Dawn: an exquisitely soulful departure that opened with a 4am piano ballad titled Looking For Love and peaked with the creamy electric piano and jazz harmonies of Golden, the band's biggest hit to date.
So radical was the reinvention that Kingswood's own record company thought they were being punked on first playback. Their fans, meanwhile, held fast and multiplied as bi-annual appearances at Aussie uber-festival Splendour in the Grass escalated from rookie adrenaline rush to confetti-canon ecstasy.
And so to 2018, and a highly anticipated debut appearance at Mondo NYC in early October in New York City, followed by extensive touring (watch this space) through the US and Europe.
Meanwhile, sessions for as-yet-untitled Album #3 continue, with drummer Justin Debrincat, bassist Braiden Michetti and Nashville producer Eddie Spear playing "fifth Beatle" to the band's creatively democratic, relentlessly expanding visions for the future of rock'n'roll.
Nashville, says Alex "is kinda magical for us. It's this unique community of creative people, great resources and facilities and opportunities and whether it be people, gear, instruments, knowledge, atmosphere… it's just all there 24/7 and we find it all incredibly inspiring."
"We're doing this super hi-fi and the songs have gone over really well live," Fergus says of the new material. "As writers we've reached the point where we don't do album tracks; we don't do B-sides. Every song is special and we give it everything. I think this record is going to sound amazing."
"For me, it sounds like Michael Jackson meets the future," he says. "It's an amalgam of that kind of creative energy and the sounds of now."
Alex doesn't disagree. "We hear a lot of 'Oh, rock's dead,' these days and OK, yeah, maybe in its classic form it is, but the spirit of rock is not dead," he says. "Rock'n'roll is far more an attitude than it is a style. I feel like if we can take rock'n'roll into the future wrapped in this modern sensibility we've accumulated though the '90s — hip-hop culture, A Tribe Called Quest, Lupe Fiasco — I mean, that's a pretty exciting prospect.
"For us, this is a new phase again," he says. And he fully expects the Kingswood faithful to embrace it. "I think people respect how earnest it is. You can sense disingenuousness. I think people can tell that we're making music we love. When you get up in front of a crowd, I think that's the quality people respond to."
Kingswood will be playing at The Grand Hotel, Mornington, Friday 4 January.
Tickets at grand.oztix.com.au or www.grand.net.au