By TERRI LEE FATOUROS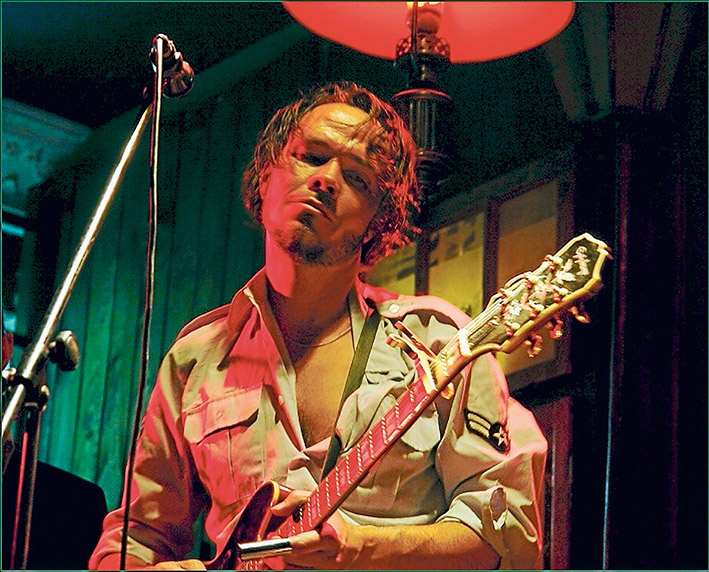 Over the years I've had the pleasure of meeting and interviewing a number of incredibly talented and highly gifted musicians who create songs in that ethereal, sacred and mystical world inside the music sphere. There never seems to be a name for it and some even say it claims you and it's a force to be obeyed when it does. Either way when musicians enter this mystical vibration and channel their muse, mind-blowing works are often created.
For example, Carlos Santana and Jeff Beck are two musicians who spring to mind who over the years have created music that has moved many people. However, there is one other name whose music delves deep into your soul and takes you journeying into emotional arenas of spiritual discovery. His name is Hugo Race and his band is The True Spirit.
Race has been honing his musical signature for many years and has lent his name to numerous bands including a saturated two-year stint with Nick Cave and The Bad Seeds.
Race's musical genius and talent is expansive and back in 1986 he played the part of Pierre in one of my all-time favourite Australian movies, Dogs in Space starring Michael Hutchence and Saskia Post. Over the years he has experimented with many creative endeavors.
Race's distinctively deep, sensual voice interchanges between whispered narration and soulful descants dripping with heartfelt emotion that pierces where it should. He's got an allure that entices you in; its like moths to a scented candle flame, you can't help but be drawn in with fascination, watching him emote into tunes laden with love and life experiences. Songs layered in textures with complex levels of Moog synthesizer, reverb guitars and ethereal harp, and coated with his sensual voice, all of which clearly demonstrates his superstar quality. And superstar he is, because mention Hugo Race overseas and instantly his celebrity status and musical brilliance is recognised.
Australia is always the last to recognise its own talented musicians. Often it's only when the rest of the world sings their praises that Australia reluctantly follows.
Recently, I was fortunate to catch up with Hugo Race at The Toff in Melbourne on the last leg of his Australian tour before he embarked on his sold out world tour.
As we walked up the back stairway of this old Melbourne gem of a building to do the interview, while all the time exchanging polite chitchat, I couldn't help but observe Race's gentle and humble manner.
Once settled, I asked Race about his song writing and how he went about it.
"I often find that I feel this pressure in the back of my mind when I go into writing mode. It's hard to identify or to say what that pressure is. I've come to recognise that it means I have to write a song and there is something coming through and I have to be available to allow it to breathe and to exit.
"I tend to resist it, as I'm not someone who sits around trying to write songs.  I don't rehearse all my instruments.
"I just get on doing all the things I choose to do, which mostly is some form of creative expression.
"I guess when I'm relaxing and creating music I tend to do instrumental pieces and work in electronica and go for hypnotic loop base things that can transport me personally to somewhere that I want to go. So that's what I do as a kind of pleasure ritual.
"But writing songs is not something that I'd say is really fun. It's more of a sense that a meaning is starting to cluster and is starting to accumulate and I have to submit to it. In fact in the last week I saw the space, time and energy to be able to do that so I went for it and I wrote three songs and I've got no idea where they came from," he chuckles.
"I think they are incredible songs and I can't really explain them. The songs write themselves once I make myself available. They are difficult taskmasters, as they don't come through all of a sudden, rather they force me to find a point of departure, that's the first thing I have to find. It can be a lyrical hook or a chord change or it can be something very simple. However, once I've locked into something that resonates in a way that I can't really explain, I know if I give it time then the song will emerge.  And it normally takes somewhere between three to eight hours to bring the song down.
"It's totally there at that point so I don't often go back and rewrite it very heavily. I tend to finesse around with lyrics and things like that. But I do it very rarely; the act of writing songs, and when I do write, I always do it with consciousness. In a sense that I know during the entire day I won't be interrupted because I've got no other responsibility that I have to take care of and I can just make my personal space, my studio, and my time available to write songs and then it just happens, it's an incredible thing."   
Race uses a palette of tools in his studio such as Pro Tools to mix because it's very minimalistic and tends to work with acoustic guitar to write a song.
"When I want to realise a song which is a step towards arranging it and creating the mood to embody the song, I work with a lot of other things I have around, such as acoustic, electric, the computer and multi-media production plugs as well."
We chatted about how 'The True Spirit' name came about. "It has a long history way back to 1987 when I was playing in a band called The Wreckery. I was approached to do some solo shows in Melbourne and was standing out the front of a night club and had to come up with a name on the spot. I was slightly drunk so I said 'lets just go with Hugo Race and the True Spirit of God'. It was kind of a joke and meant to be ironic, but the promoter came back and said, 'let's just leave out the God part and just go with The True Spirit' to which I replied 'fine'," laughs Race.
"The name has kind of stuck cause what I started doing in those solo concerts in the 80s evolved into the first solo album. Since then Hugo Race and The True Spirit has gone through drastic personality and personal changes, been relocated around the world, based in different cities, and as a band with a long history, has been divided into several periods. Right now we are kind of in the beginning of the next period due to this new album called The Spirit. It's the first album we have made in seven or eight years due to a hiatus. Three years ago it felt like the moment was right between me and my colleagues in the band to start working on a new album and so we did."
Race explained that when he writes lyrics he's either talking to himself or to a real person, so there is something conversational about the songs. They don't arrive from an abstract place; they come from real things, from everyday things. The point about music is that it has this real genuine capacity to be a bridge between worlds.
I asked him if he had a name for his world tour and he laughed and said that his world tour doesn't really have a name. Originally it was going to be called Australian Spirit Tour, then when in Europe the European Spirit Tour, then the American Spirit Tour to which he said "we can't do this".
"But in all seriousness, the kind of spirit we are talking about doesn't have a nationality and definitely is not patriotic so in the end the tour has no name."
It's a very new thing that the True Spirit is playing again.
Race's lyrical content is rich and dense and with such a long history, he can't really find a way to break this down for people. The only thing he can say is: "open your mind and come and experience this thing we do.  Maybe it's for you and maybe it's not. Whatever the case is that's fine, we do it for other reasons and its not for a careerist notion. It's always been about the magic and mystery and the beauty of the whole thing. That's what drives the project'.
Hugo Race and The True Spirit is:
Hugo Race – vocals/electroacoustic guitar.
Brett Poliness – drums/percussion/vocals.
Bryan Colechin – bass/vocals.
Michelangelo Russo – harmonicas/trumpet/vocals.
This story is not quite finished because I want to make mention of Russo's superb hauntingly yet ethereal harmonica playing, intermingled with his soulful moog riffs. Colechin's guitar mastery, producing phenomenal, complicated riffs and Poliness tight, succinct, well-toned drumming. With all of this combined, Hugo Race and The True Spirit is exactly that… Spirit expressing itself in music.