By MELISSA WALSH  Photo YANNI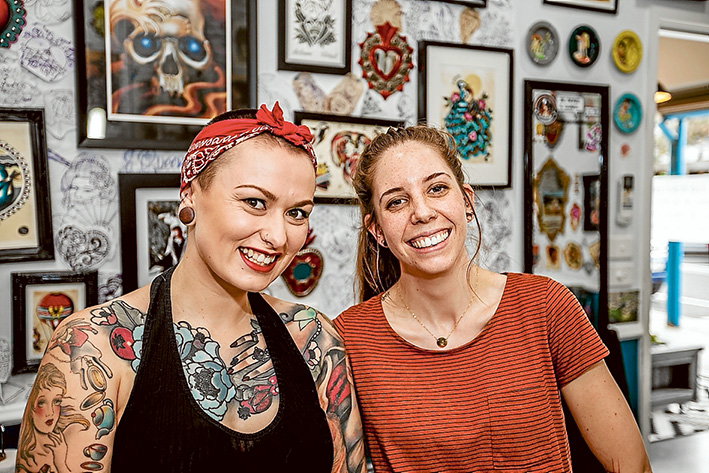 Erin and Alyssa were never friends at school. It wasn't that they hated each other – they just hung out in different groups. Alyssa was a bit of a loner and Erin was more out there, despite having a policeman for a father. Cut to September 2014 and this unlikely duo create quite the stir in the male-dominated tattoo industry, with the opening of Hen's Teeth Tattoo Company.
"It's funny how life takes you in different directions," said the 28-year-old tattoo company owners. "We both went to high school in Rosebud and now years later run a shop together down the road in Dromana."
The wonderful thing about Hens Teeth Tattoo is its surprisingly feminine nature. Walking into the waiting room at the front is like walking into a beauty spa with wonderful mirrors, bright pictures, black and white photos and a very cool wallpaper mural. The girls are welcoming, too. Both individuals, but sharing this incredible passion for tattoo art.
"I got my first tattoo at 18," explains Erin. "Much to my father's horror, who has been a police officer for 40 years. The tattoo was a dragon fly on my wrist. I always knew I wanted to be tattooed but Dad didn't talk to me for a while."
A self-confessed needle and blood test hater, Erin admits the first one did hurt, but she loved the results so much she just kept going back for more.
"I am a bit of a sissy and still have to psych myself up to have it done, but I just love the result and the pain is only fleeting. Once it's done it's done and it just feels like sunburn."
These days, Erin has her own style of glam – a stunning Hollywood makeup with a rockabilly edge and of course, lots of brightly-coloured tattoos.
Somewhat more sedate, Alyssa shines with her own style, her tattoos darker and her look more mainstream.
"I was a total nerd at school and didn't have any tattoos or knowledge of the industry for a while. I had just dropped out of a science degree and came down to see my mum here. We were at the café next door to where Erin was working and I saw the sign they had a job advertised so I went in and got it," says Alyssa, who found her passion for tattoo art and creativity from that serendipitous meeting.
While the two girls worked together and loved expanding their skills, it was only a matter of time before the idea of a joint business came up.
"The tattoo industry has always been male-dominated, but times are changing. We wanted to do things our way and create a place where women and men could come and feel comfortable to have their tattoos done. We found a shop in Dromana and it was perfect. It all came together very quickly," says Erin.
Now, the girls are flat out with clients of all ages and backgrounds coming for their individualised work.
"We do everything from the smallest tattoo like a love heart on the finger to full body work. I guess the ratio is about 60-40 women to men," said Alyssa, explaining that she'd recently tattooed a woman who was 72 and wanted a commemoration of her son.
For Erin, her dad is now cool with her tattoos and has even had a couple of small ones himself.
"Dad even helped us with the practical side of getting the business ready," said Erin, of the studio which has private rooms, a welcoming waiting area, is extraordinarily clean and a great place to relax.
"We are on a mission to create a place that is comfortable and welcoming to everyone. So come on down, say hello and we look forward to putting some beautiful work on your skin," the girls explain.
Hen's Teeth Tattoo Company is at 7/143 Point Nepean Road, Dromana.
Phone 5981 4649 or visit www.hensteethtattooco.com.