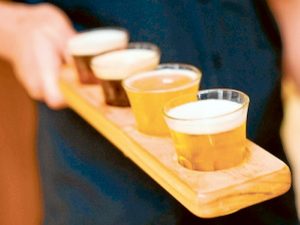 This year Red Hill Brewery will be featuring 10 years of beery treasures as Dave delves into his cellars to share 10 years of special brews.
Get your hands on the Brewer's secret stash at our annual beerfest at the brewery.
Saturday 23rd and Sunday 24th July 11am-6pm both days
The Brewer has been forced to share his secret stash of aged and limited edition ales. 10 specialty, award winning ales will be on tap for one weekend only in July.
The beerlist will be revealed leading up to the event, but likely inclusions include the 10th Anniversary celebratory red beers, double barrel Imperial Stout, vintage Imperial Stout and rare selections from some of our earliest brews
Delicious BBQ will be smokin up a storm with low n slow BBQ treats to keep you sustained all day long.
$28pp includes a limited edition printed pint glass to take home… filled with great beer of course. Steins must be booked – they always sell out.
Anyone can come for a pot, pint, paddle or lunch, no bookings required. Only bookings for steins if you choose that option.
Red Hill Brewery is located at 88 Shoreham Rd,  Red Hill South. Phone 03 5989 2959.