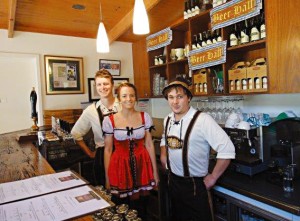 Pull out your lederhosen and start practicing your German accent because on October 10th and 11th, Red Hill Brewery are teaming up with Red Gum BBQ to celebrate Oktoberfest. You won't need to journey all the way to Munich for this one-off event, just to Red Hill, Victoria's picturesque peninsula packed with artisan producers, vineyards, orchards and of course, beer.
In Red Hill Brewery's 4th Oktoberfest, visitors can expect Red Hill brewed German beers matched to Red Gum BBQs brats plus more. From the brewing corner, there will be Kolsch, Hefeweizen, Weizenbock and Pilsner.
Expect live oompah tunes, brewery tours, pots, pints, paddles and all-round Bavarian fun. The rustic café environment and vast, sheltered deck at Red Hill Brewery are sure to be a hit over the festive weekend.
Make sure you reserve a souvenir Red Hill Brewery Oktoberfest 2015 stein, which you will be able to take home with you … but not before it's been filled with your choice of beer! Steins are limited so book now to avoid disappointment, 500ml $28 or full 1 litre for $45
Oktoberfest dress is almost mandatory and the best dressed beer lover will win a free stein (500ml) and a case of Red Hill's German beers (judging between 12-1pm on each day).
Beer and BBQ are available for purchase over the Oktoberfest weekend, but it's free to attend the celebrations. Make a day of it or simply stay for a brew on your way through… Prost!
Saturday 10th & Sunday 11th October. 11am-7pm both days.
No bookings required
Red Hill Brewery, 88 Shoreham Rd, Red Hill South  www.redhillbrewery.com.au
First published in Mint Magazine – September 2015