By MELISSA WALSH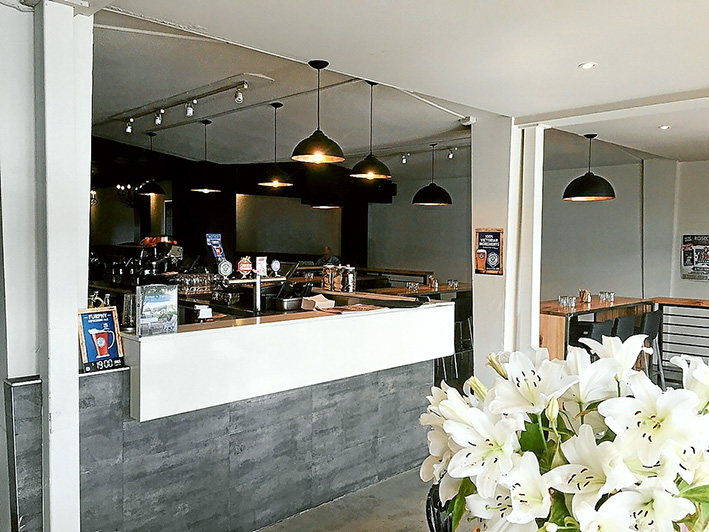 It's all happening at Rose GPO Hotel where the last six weeks has seen a huge refurbishment taking place.
Owner Sam Austen says it's been seven years since they took over and it was time for a change.
"We have completely refitted the front of the venue with new floors, new furniture, bar tops and new lighting. The bar tops are made from recycled hardwood timber and the new industrial copper leaf lighting gives a warm ambience," said Sam. "The whole place has been freshly painted and decorated, a dramatic change from the dark woods to a light and bright vibe."
Rose GPO is in the middle of a rebrand also and executive head chef Patrick Bowring launching a delicious Spring menu for our loyal and new clientele.
"We have a new menu to coincide with the relaunch of the refurbishment, a menu with lighter options, and fresh lamb and pork dishes with two great new salads."
Enjoy the selection from Rose GPO with tapas dishes including pulled pork sliders, salmon skewers, new season asparagus salad and roast pumpkin salad.
For those looking for something a little more substantial, the new Emerald valley lamb rump is a must try, or the Cone bay barramundi fillet with celeriac remoulade, surf clams and roasted kipflers is iconic.
On Sundays, the only place to be is the GPO Hotel with their Smokin' Blues and Texas Barbecue, showcasing fabulous blues talents from around the country, as well as regulars like Diddy Reyes and the Blues Maniacs, and Andy Phillips and the Cadillac Walk.
Right on trend and the only one doing it on the peninsula is the all style American smoke barbecue Sundays starting from midday, with music starting at 3pm.
"The response has been fantastic, and our Blues Sundays have really taken off, as there's not much for the 35 and over crowd down this end of the peninsula," said James Robins, the GPO'S manager of six years. "We have two set bands the first and third Sunday of the month and then alternative bands the other Sundays."
Smokin' Blues and Texas Barbecue has become a favourite Sunday destination since it started in April this year, and Sam couldn't be happier with the response.
"There's things to do in Mornington and Frankston but not much this end so it's great to be able to provide a fun day for people, families included around the Rosebud area without having to drive too far," he said.
Great food and quality entertainment have gone hand in hand at The Rose GPO.
"Since we started here we have set a standard and a culture that Rosebud so desperately needed," he said.
"The GPO is a driving force in establishing Rosebud as a reputable food destination. Romantic dinners, family reunions, Christmas functions are all catered for here."
"We have a great selection of beers on tap with an abundance of local and international craft beers," said Sam. "And we pride ourselves on having the internationally renowned coffee culture of Melbourne right here in Rosebud. Our baristas are trained and addicted."
Rose GPO is at 1003 Point Nepean Road,
Rosebud. Call 5982 3200.
See rosegpo.com.au
First published in Mint Magazine – September 2015