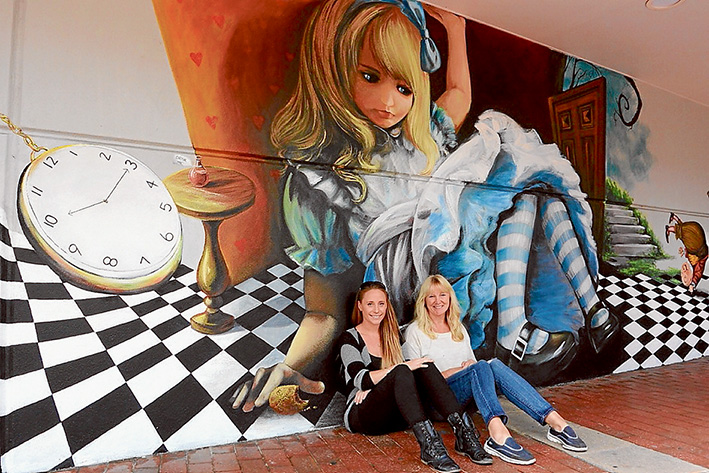 Frankston Library's recent makeover perfectly illustrates the transformative power of art. Dynamic duo, Brigitte Dawson and Melissa Turner of Melbourne's Murals, have created art so realistic it looks as if you could walk right into the gardens or half expect someone extraordinary to step out. Drab grey walls have metamorphosed into scenes from the weird and wonderful world of Alice in Wonderland.
Originally Dawson created a mural on board for one wall of the Frankston Library, but it was so well loved someone stole it! Years later two Frankston councillors came in to dine at her then restaurant, Beach Street Garden Gallery Cafe (now Beach 162), and saw her creating a mural. They thought mural art might reduce Frankston's graffiti problem. The seed of an idea was planted.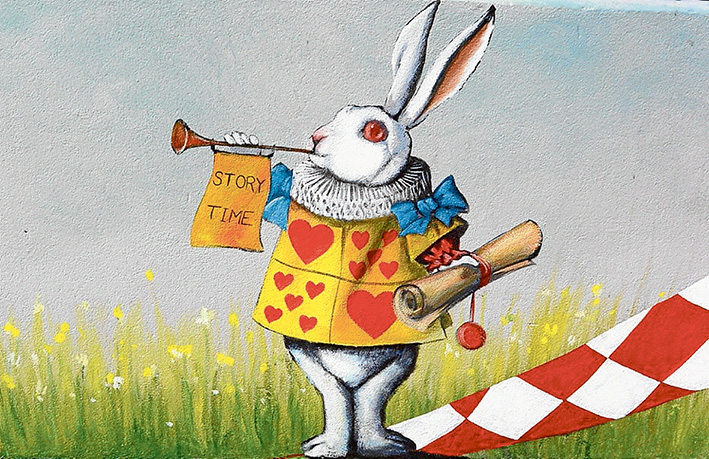 After some time and consideration, Dawson and Turner approached Frankston Council with a mural plan. All parties agreed on the Alice in Wonderland theme because it's timeless, classic and familiar to all. Its stories within stories invite imagination. Council also wanted a lot of greenery so people would feel they were actually in a garden. Now the concrete courtyards and library walls are covered in colourful murals and lush gardens expertly painted in the Trompe l'oeil style.
From a public perspective, mural art is a win-win Turner observed, "There is so much a mural can bring to the community. When we are working we watch people's faces. They love it. Also, I noticed all the buildings along Playne Street got graffitied, but when they got to our section, they stopped and started up again at the bike shop. Taggers have an unspoken respect for street art."
Those councillors were on to something. Hopefully Frankston will be seeing more mural art. See their other projects at: www.melbournesmurals.com.au or in their upcoming exhibition opening 29 May at Dawson's new restaurant, La Casa Sawtellis, 129 South Gippsland Highway, Tooradin. Look out for Bottecelli's Venus holding a cuppa.