By ANDREA LOUISE THOMAS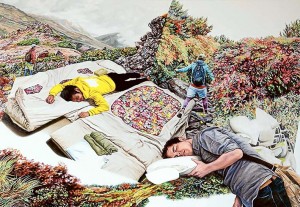 Artist, Kevin Chin, won the 2015 inaugural Bayside Acquisitive Art Prize adding to an impressive list of other prizes and grants. He returns to The Gallery at Bayside Arts and Cultural Centre to present his solo exhibition, Worlds Away. Chin's work combines fantasy and reality in intriguing ways.
In his own words, his work is about, "a sense of alienation and how that connects us to a sense of belonging we create for ourselves." There are seemingly incongruous elements in his work that leave the viewer to imagine their place in the landscape as they are drawn in to ethereal worlds both foreign and familiar. Chin is particularly interested in themes of travel and the migrant experience.
Educated at the Victorian College of the Arts in oil painting, Chin mixes his own colours and applies them in transparent layers to create depth and an otherworldly feel. This approach is reminiscent of the Chinese watercolours he saw at home growing up.
See Worlds Away at The Gallery @BACC, located on the corner of Carpenter and Wilson Streets, Brighton.
Gallery hours are Wednesday to Friday 11 am to 5 pm, Saturday and Sunday 1 pm to 5 pm.
Admission is free. 9261 7111.