By ANDREA LOUISE THOMAS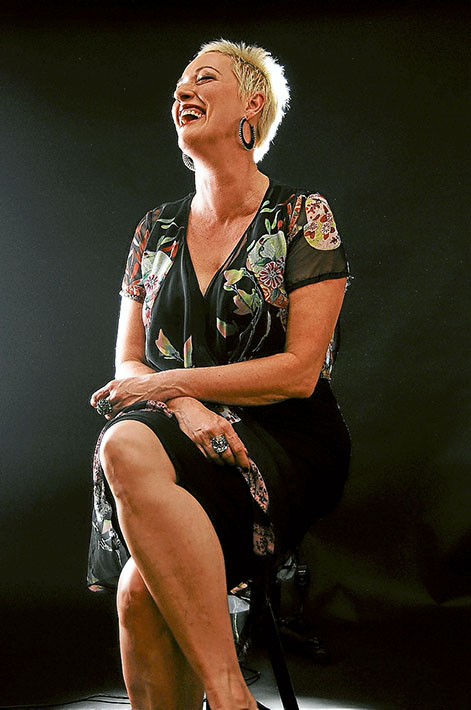 Powerhouse performer Tracy Bartram has a diverse professional repertoire, but she's probably best known as a stand up comedian and radio personality. Passionate about social change, she also puts a lot of energy into working for what she calls the 'greater good.' She's particularly interested in shining a light on addiction, mental health and gender equity. Bartram will bring her passion and energy to Frankston as MC for the live streaming of All About Women – part of Sydney Opera House's Ideas at the House program. Frankston Arts Centre's Cube 37 hosts the event. I caught up with her before she comes to Frankston.
MINT: How did you feel when you were offered the gig to host the live streaming of All About Women at Frankston Arts Centre?
BARTRAM: I was thrilled. I love International Women's Day! Most people don't know it's been around for over a hundred years. All About Women is such a great initiative. I recorded my only live comedy CD at FAC so I love that venue. I had a really happy time there. It's a big achievement for Frankston to be connected to this stellar event coming out of the Sydney Opera House.           
MINT: What do you see as the big issues facing young women today?
BARTRAM: I think there's a whole quagmire of issues facing young women that I certainly didn't have to deal with when I was young. Now young women are connected to their phones 24/7 so they don't get enough sleep. They've got cyber bullying issues and self-esteem issues. They've got the airbrushing that goes on in every magazine. We don't see so called 'normal' people anymore.
MINT: What challenges have you faced as a woman over the course of your professional career?
BARTRAM: It's not a level playing field – the gender divide is very overt here. I can say that as someone who's travelled. I've had situations where opportunities have been given to males in my profession though I've been the right person for the job or another woman has been the right person for the job. I've seen women bullied out of roles by the boys' club. We've still got gender bias all the way through. 
MINT: Has being a well-known personality made it easier or harder for you as a woman?
BARTRAM: In my private life, it's made it a lot harder. I've been single for a long time. If I meet a man and he realizes it's me, he'll run a mile. But in my public life, as a woman with a profile, I am able to use that for the greater good to support community work I'm involved in. I'm grateful because it allows me leverage. The social media part of things is really interesting because it allows you to build relationships with your community that you couldn't do so much on air.
MINT: Do you think stand up comedy is the best medium for effecting social change?
BARTRAM: No. I think radio is. You can reach so many more people with radio than you can with stand up. Stand up has its merits, but unless it's televised live, not many people are going to hear it at once.
MINT: What outcome would you like to see from events like All About Women?
BARTRAM: I would love to see more events like this – that aren't based on fashion parades and make up and stuff that the media focuses on with so many women's events. I want to open up a conversation. I'd love to see something like this morph into something monthly. There's not enough healthy, open conversation about the things that really matter to us.
MINT: What's next for you?
BARTRAM: We're looking at Series Two of the Intolerant Cooks though nothing's been set in stone yet. My first book will be out this year. (I'm writing a trilogy) It's called Serious Laughter; a Comedian's Life in the Celebrity Fast Lane. It's about my radio career, the people I interviewed, what I learnt from them, my decision to leave commercial radio and why. Right now I'm working on a pilot radio show with a brilliant high profile journalist. We're pretty excited! I just need to find the right network.
See Bartram in person at All About Women at Cube 37 on Sunday, March 6 at 12:30 pm. Bookings: 9784 1060 or thefac.com.au
First published in Mint Magazine – February 2016