By ANDREA LOUISE THOMAS
With his Cheshire cat grin and consummate charm, actor, Samuel Johnson has one of Australia's most recognised film and television faces. He's equally well known for his dulcet toned voice over work and for setting a world record riding a unicycle around Australia (15, 995 km!) raising money for breast cancer research/awareness through Love Your Sister an organisation he and sister Connie created after her breast cancer diagnosis. In 2009, Johnson co-founded Straightjacket Productions with director Lucy Freeman. Currently they are touring Laura Eason's Sex With Strangers. Funny, insightful and sexy too, the play stars Johnson and Tottie Goldsmith. It's about the relationship between a Gen X academic/author and a best-selling Gen Y blogger. I chatted with Johnson before the show comes to Shirley Burke Theatre, Parkdale.
MINT: Tell us a bit about Sex with Strangers…
JOHNSON: It's essentially about a guy and a girl. Tottie is playing the conservative – an older professor of literature who hasn't quite jumped on the tech wave yet. I'm the young scallywag who pretty much relies on digital communication. I'm really proud of this show. Laura Eason, who is arguably the best writer on House of Cards (Netflix), wrote this play. It's done great things in America and I thought it was really important that we see it here.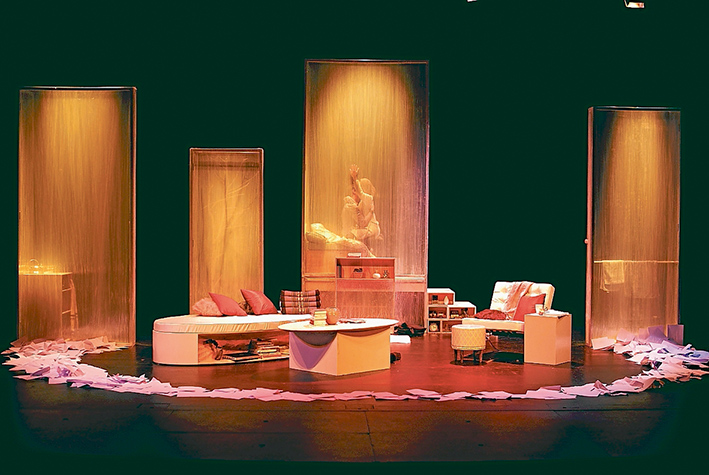 MINT: Originally written for an American audience, were any changes necessary to make it more accessible here?
JOHNSON: None at all. We've been very true to the script. We've got accents and we haven't localised it at all. It's my first attempt at an American accent after 23 years in the business. I'm terrified. I hope it passes. I learned the accent in four weeks, but I'm pretty happy with where it's sitting now. I found the American very difficult because Americans use their whole mouth. In Australia, because of all the flies, we're used to speaking with a closed mouth. Dead set – that's the reason.
MINT: Other than the live audience, how is stage work different to screen? Do you have a preference?
JOHNSON: It's two different ways of playing the same game. Nearly any actor would say they prefer acting live. Nothing can really match the adrenaline of having no safety net. With TV there's always that next take. To be an actor you have to love stories and there's something about doing them in the traditional way that can't be duplicated.
MINT: What it's like to work in television, could you give an insight into episodic TV?
JOHNSON: It's known as high turnover TV. It's incredibly expensive so any kind of artistic vision you might have will get drowned out by the commercial reality that time is money. The war between commercialism and art is at its fiercest in television. TV is not as fun as being on stage – no contest. It's really the bonds of the relationships with your workmates that makes it fun. The work itself is incredibly gruelling. No glamour there. TV is highly technical too and the days are long.
MINT: Audiences haven't seen much of you on stage. What drew you to this project?
JOHNSON: It was really the script and the opportunity to be touring again. I love touring a play. I'm at my happiest as an actor when I'm playing performing arts centres in rural and regional areas because that's where I feel like I belong. Having said that, I'm not complaining about being on the silver screen because it affords me the opportunity to follow my more creative and philanthropic pursuits. I get the best of both worlds.
MINT: What do you look for when you consider producing a play?
JOHNSON: We look for really good writing – a commercial story that still maintains its artistic integrity. We find so few scripts that manage to find that balance. We do seriously engaging, thought provoking theatre.
MINT: How do you think theatre can attract new audiences in an age when other media and new technology are so dominant?
JOHNSON: It's our mission to get younger people to the theatre with shows that are engaging, sharp, funny and most importantly really f**king entertaining.
See Sex with Strangers at Shirley Burke Theatre, 64 Parkers Road, Parkdale on Monday 3 August, 8pm.
Bookings on 9556 4440 or at kingstonarts.com.au