By ANDREA LOUISE THOMAS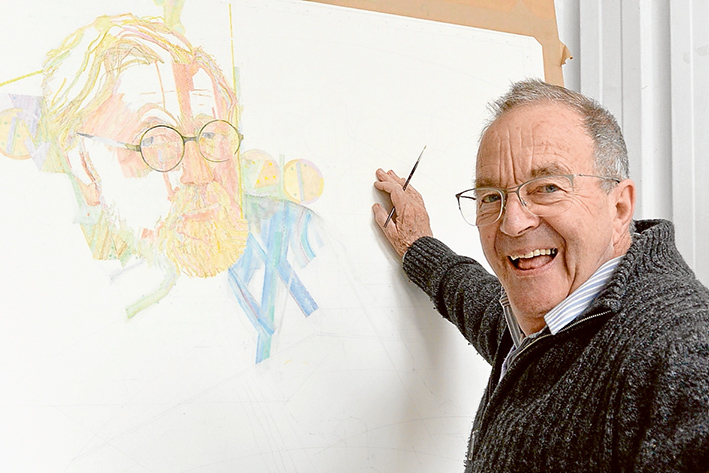 Mornington Peninsula artist Christopher Pyett feels fortunate to have attended art school at a time when art education focused almost entirely on technique encompassing everything from colour theory, portrait, life and landscape painting to anatomy and drawing full-time. And it shows over the life of his long career. A consummate colourist, extraordinary draughtsman and brilliant watercolour painter, Pyett's subtle and intricate portrait of Rosie Batty for the 2015 Archibald Prize is captivating. While it wasn't a finalist in the Archibald, it was summarily accepted to the Salon des Refusés.
MINT: What made you choose Rosie Batty as the sitter for your Archibald entry? How did she react when you asked her?
PYETT: She made a great impression on me for her stance on family violence. It was her resilience more than anything else. Imagine seeing your son killed like that. Then almost two days later she started with that press conference. It's incredible. I admired her diligence and dedication to the cause. I thought she'd be interesting to paint. She said she'd be very happy to sit for me.
MINT: Rosie appears to emerge from or descend into the background. Did you do this purposefully?
PYETT: Right from art school we had instilled in us that a portrait had to be a painting first and a likeness second. That's what's great about a portrait – having that tension between trying to make it a likeness and trying to make it a painting. Most people would be happy with a likeness of Rosie and fill up what's left with something else. My concern is that the whole painting is in character and has the rhythms of Rosie all through the background. The only dominating feature is that she is sitting above eye level looking down taking on the world. That was deliberate on my part. 
MINT: As a career painter it's surprising that you had never entered the Archibald Prize before. How come?
PYETT: I don't think an art prize can be judged by a number of people. It's always going to be a compromise. It's not one person's discreet opinion about the best painting. I haven't entered before because a) I've been interested in other things and b) it's a lottery.
MINT: How did you feel when you were selected for the Salon des Refusés?
PYETT: They rang me on the day the Archibald was announced and said you've been chosen for the Salon. I was pleased about that. To get in the Salon is probably as good because you very often find that the best paintings are there. The Archibald has 950 entries. There are 54 in the Archibald and 50 in the Salon so I consider it pretty prestigious to get in.
MINT: You have been described variously as an abstract painter, a colourist, a draughtsman and a figurative painter. How would you describe your practice?
PYETT: I've never been an abstract painter because an abstract painter starts with nothing and ends with nothing. I've always started with an idea on which to base my painting. I am very fond of good drawing. I'm an analytical painter not an expressionist painter. I can't sit down and paint my emotions. Good art training tells you to build a foundation for life, not to be a genius from the moment you walk out. That conflicts with the art world now.
MINT: You studied painting at the Tasmanian School of Art, but you also create amazing tapestries. How did you come to that?
PYETT: An architect working for BHP saw an exhibition of mine in Melbourne. He then went to the Victorian Tapestry Workshop and said I've seen this painter's work and we'd like to commission a tapestry from him. This commission opened a whole new world of colour, one where colour is not mixed as in painting, but is allowed to mix on the way to your eye and where purity of colour is at its maximum. In painting, every colour mix is one step nearer black. In tapestry this is not the case. I have completed 33 tapestry commissions.
MINT: You've mentioned that your love of classical music influences your painting. Could you elaborate on that?
PYETT: It's the inventive orchestration, i.e., the way good composers weave one instrument against another. This is the inspiration for how I weave one colour against another.
MINT: What's next?
PYETT: I'm currently working on a portrait of Robert Richter, QC for next year's Archibald Prize.
See Pyett's portrait of Rosie Batty and all the other finalists in the Salon des Refusés from 10 October to 29 November at Mornington Peninsula Regional Gallery, Civic Reserve, Mornington.
Phone: 5975 4395
Website: mprg.mornpen.vic.gov.au