By ANDREA LOUISE THOMAS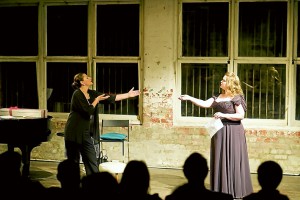 Australian musical theatre star, Maria Mercedes, performs her dream role as iconic opera diva, Maria Callas in Terence McNally's Tony award-winning play, Masterclass.
Bringing to life the passion, drama, drive and artistic genius of Callas is for Mercedes, the greatest of honours because she has always admired not only her incredible talent, but also the honest and uncompromising way in which Callas lived her life.
Masterclass re-enacts the story of Callas' infamous 1973 visit to New York's Julliard School of Music where she taught, mentored and pushed students to achieve their dreams – although a bit harder than some of them would have liked.
Featuring three of Melbourne's best young operatic talents along with Mercedes in the role of a lifetime, see Masterclass for a truly spine-tingling night at the theatre on Thursday, 24 September at 8pm or Friday 25 September at 1pm at Frankston Arts Centre.
Bookings: thefac.com.au or 9784 1060.