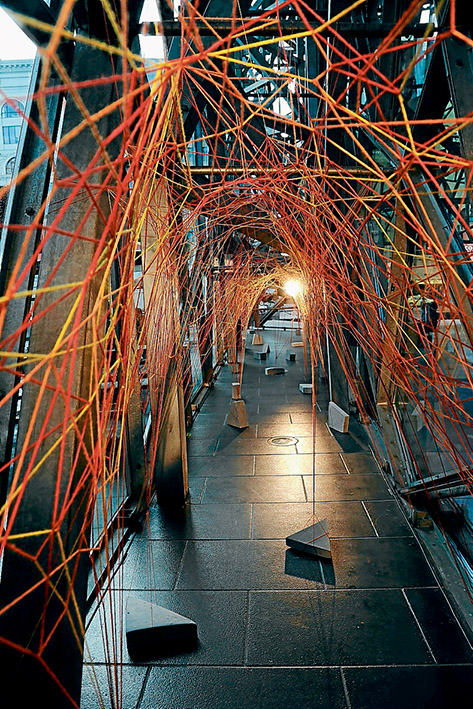 From 22 April until 22 May 2015, Bayside City Council's ARTrium Exhibition Space will be transformed with NOMAD, a colourful woollen membrane created by artists Ara Dolatian and Michele Donegan.
Known for installing coloured woollen webs in galleries and public spaces, Dolatian and Donegan respond to the architecture and purpose of individual sites. Their work has been displayed in notable spaces such as Federation Square, Fitzroy Gardens, Victoria Park, the Docklands and c3 Galllery in Abbotsford. A NOMAD installation was also featured as part of the 2013 Mid Summa Festival.
A NOMAD web reinvents a site by creating a sense of other-worldliness that transforms the nature of the space. The web forms a 'shelter' reminiscent of nomads stopping to establish a safe place for a temporary period of time. The web becomes accessible to the public to explore, enjoy and be immersed in.
As part of the new ARTrium Exhibition Space & Roaming Studios Program, which encourages exhibiting artists to interact more closely with the Bayside community, Dolatian and Donegan will be conducting an artist talk on Wednesday 22 May at the Bayside Corporate Centre.
NOMAD can be seen at the ARTrium Exhibition Space, Bayside City Council Corporate Centre, 76 Royal Avenue, Sandringham.
Opening Hours: 9am – 5pm Monday to Friday.