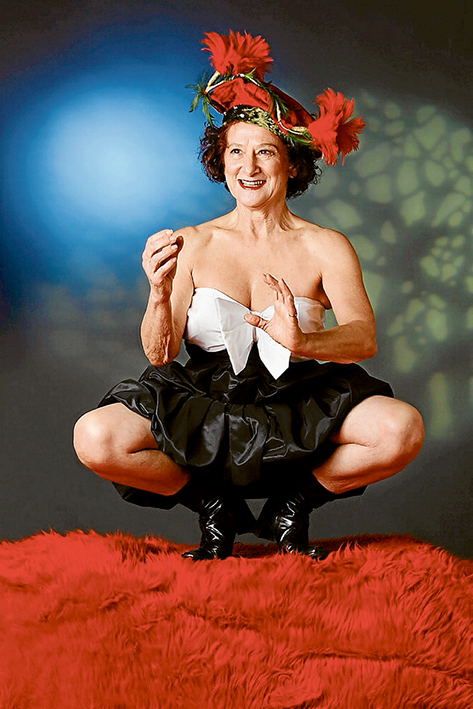 Actor Evelyn Krape has had audiences laughing out loud while thinking about the human condition since her earliest days in experimental theatre at Melbourne's Pram Factory bringing insight, glee and boundless energy to the stage. Her latest project, More Female Parts, written by Sara Hardy references the original Female Parts, written by Dario Fo and Franca Rame in 1977. This new play is a one-woman tour de force examining life through the lens of an older woman, but touching on issues that affect all people.
MINT: TELL ME A BIT ABOUT THIS NEW PLAY…
KRAPE: The first monologue looks at a woman in her 60s whose husband has left her for his secretary. She has to go to Centrelink to try to get enough money to support herself. It addresses all of the indignities related to that. The second is set in 2044. It's about a woman who meets her husband on the Internet. He travels overseas a lot. She lives in a penthouse, says she loves him, but realizes her husband is monitoring her. Can she get away? Does she want to? It's about current issues – women dealing with violence – physical or mental or controlling behaviour by men. The third one is a magical surreal fairy tale about a young woman who grows up wanting to be an economist. As she starts to climb the ladder of success she realizes there is a glass ceiling. It addresses younger women and the situation that's been in the papers recently about the paucity of women at the top.
MINT: SINCE YOU FIRST PERFORMED FEMALE PARTS, HAVE THE CHALLENGES CHANGED MUCH FOR WOMEN? HAVE THINGS GOTTEN BETTER? IF SO, HOW SO?
KRAPE: Not much. Women are often so economically dependent on husbands that when a marriage changes, when they get divorced – it's hard. In the first monologue, she's got grandchildren, a daughter she's trying to help out and a mother she's trying to care for so those types of issues that confront older women are as relevant today as they were yesterday. The difference is that it's quite rare to see this situation played out on stage. It's really exciting material – funny, moving and it's got a lot of meat in it, which is what I like. I like do stuff that is saying something – that resonates.
MINT: WHY DO YOU THINK OLDER PEOPLE START TO DISAPPEAR INTO THE BACKGROUND?
KRAPE: We live in a culture that focuses on the new and the young. I think it's a real shame. It's a tragedy that we are so focused on youth. Our culture should embrace the elderly because they have a lot to offer.
MINT: DOES BRINGING THESE SORTS OF ISSUES TO THE THEATRE IMPROVE THE SITUATION?
KRAPE: I think in and of itself it doesn't, but any attempt at alerting people is good. When a community starts to talk, things start to change. Making people aware that it's not good enough for us to remain silent becomes a broader social conversation and that's a really good thing.
MINT: HOW DO YOU THINK THE GROWING GAPS BETWEEN GENERATIONS CAN BE BRIDGED?
KRAPE: I think it can be done by telling tales – working with older citizens and sharing their stories in schools introducing students to their skills. Then the young people can teach the oldies about technology. Young people are having some of the same experiences about relationships, identity, culture, place, home, love and life as older people have experienced. I think that's how you do it in a nutshell.
MINT: WHAT HAS BEEN THE MOST SATISFYING PROJECT FOR YOU?
KRAPE: There have been lots. I started my life at The Pram Factory. It was the dawning of my awareness that theatre could do more than entertain. It was my defining place. Everything I have done has had a concern for women, for the human condition, for the inequity of existence, for what life actually means. In the end I will always go for the things that are hard, that challenge an audience to experience what a situation is so I would put More Female Parts and Telling Tales in that category.
See Evelyn Krape in More Female Parts at Cube 37, Frankston Arts Centre on Friday 17 April or Saturday 18 April at 8 pm.
Bookings: 9784 1060 or www.thefac.com.au