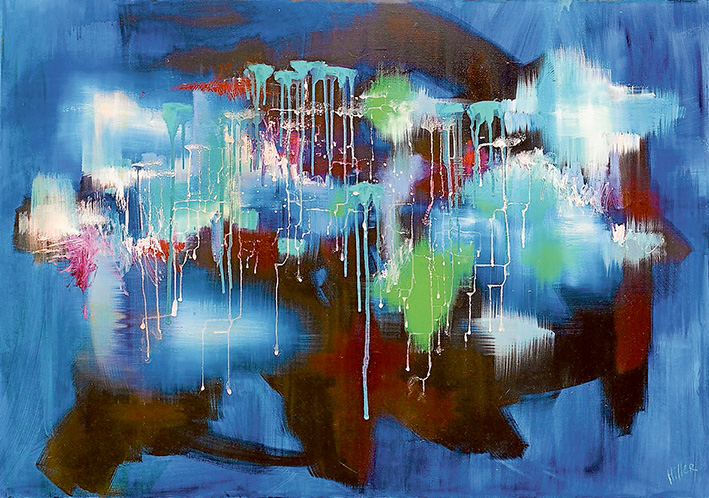 Every autumn, Red Hill Consolidated School welcomes artists from the Mornington Peninsula and greater Victoria to exhibit their very best paintings, sculpture, jewellery, textiles, ceramics, photography and hand blown glass. This year ARH changed their invitation only policy to a submissions based entry attracting 60 new artists across all mediums.
Opening night is the place to be to get first choice of what's on offer. Not only can patrons snap up a great buy, but it's also an exciting night of meeting and greeting while eating savoury canapés and enjoying quality drinks. Live music adds to the ambiance as artists chat with art lovers and locals catch up with old friends. All purchases go to support the school.
Celebrating the introduction of Japanese as a second language, students have created colorful origami cranes that will hang in a breathtaking art installation. A new mentoring program has just been established giving up and coming artists aged 15-21 an opportunity to work with a professional artist for six months exhibiting first at ARH and then in November at Red Hill Country Fair. So begins the next wave of new artists.
The Principal's Lounge welcomes Susan and Emily McCulloch again to share their expertise and to talk about the exceptional Aboriginal art for sale and display. ARH's beautiful boutique gift shop always offers unique items for purchase while the jewellery displays are second to none offering the best and brightest from local artisans.
Don't miss the chance to see over 100 exhibits from more than 200 artists at Art Red Hill.
Opening night is Friday 1 May from 7.30–10.30pm.
Show continues over the weekend from 10am–5pm at Red Hill Consolidated School, 341 Arthurs Seat Rd, Red Hill.
Enquiries: 5989 2321 www.artredhill.org.au