By TERRI LEE FATOUROS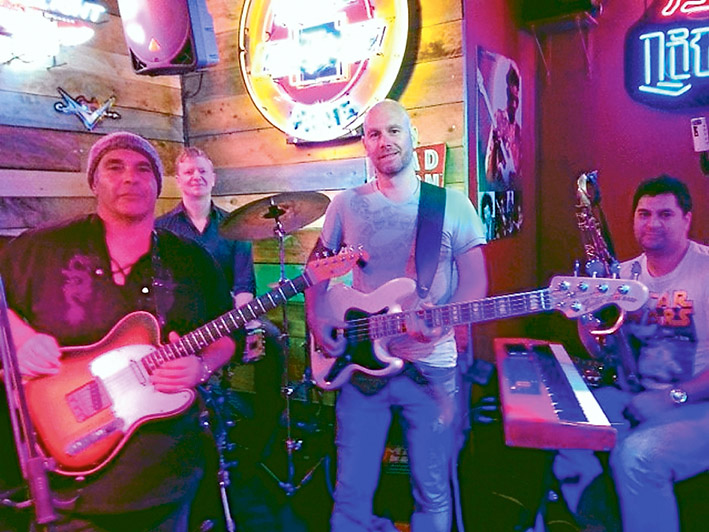 Fusion jazz, Texas blues, hard rockin' band, Blueshead should basically be called The Rob, Rob, Rob and Rob band because until recently, every band member was actually called Rob. Intrigued and amused, I looked up the meaning of the name Rob and this is what I found on the "She who wants to know" site.
"The name Robert is a German baby name. In German the meaning of the name Robert is: Famed, bright and shining. It is an all-time favourite boys' name since the Middle Ages. Famous Bearers: Scottish national hero Robert the Bruce and novelist Robert Ludlum."
Famed, bright and shinin… I guess there must be some truth in it, because Blueshead Band certainly has a rockin' polish to its repertoire. Rob Papp plays lead and sings, and is the mastermind behind the band.
Rob Dallas cruises on his Fender jazz bass while Rob Moe bedazzles on Hammond keys and sax.
Peter Hodges contributes a strong blues feel on drums and incorporates improv interplay in sync with the soloist during play.
Blueshead rocks solid doing covers from late '60s to contemporary, with the likes of Charley Patton, BB King, Robben Ford and The Meters to name a few. There's a healthy "playing off each other" vibe going down with lots of "trading fours" between lead and sax that sits really well within the band's overall structure.
"This works well because these musicians were never picked or auditioned, they virtually turned up. Most bands have line up changes, but for us it seems the vision is and will always be the same; to explore the container of the blues," Says Papp.
Like all good bands interpreting the blues, there's always their touch of originality added to the mix and Blueshead is no exception. They hit their songs with jazz, funk and rock allusions and it works well, particularly during improv riffs when bouncing off each others' grooves.
Hopefully Blueshead will be heading into the studios soon to record some originals, but until that happens they will keep exploring and putting their stamp on cover favourites like BB King, Stevie Ray Vaughan, Jeff Beck, The Meters, Robert Johnson, Leon Russell, Dr. John, Muddy Waters and a whole lot more.
Until then, you can catch Blueshead performing regularly at Double G in Mornington, as well as many other venues across the Mornington Peninsula.
Glen Bryant runs the music operation at the Double G, making bookings, researching bands, and ensuring the venue has top-notch blues & rock every weekend. For all correspondence regarding music, give him a call on 0414 496 654.
Glenn Pain looks after the restaurant side of what used to be a little Italian Trattoria, so if you dig well-crafted food & music, the buzz of electric guitars, and perhaps a frosty Budweiser after hours, the Double G is your next stop.
For more info on Blueshead, check them out on Facebook.