By TERRI LEE FATOUROS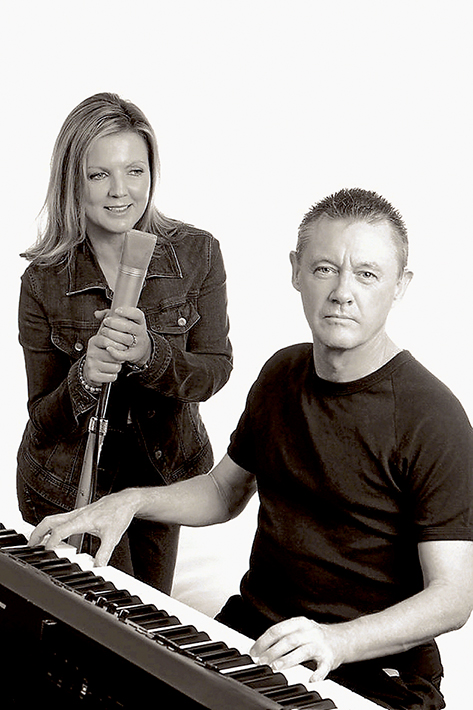 The Mornington Winter Jazz Festival kicked off to a great start when Wendy and Jon Wade quartet delighted all with their swing Jazz set at God's Kitchen recently, pulling in a packed house.
Their polished and sophisticated sound comprised of Jon Wade on Hammond keyboard, Alex House on guitar, Peter Hodges drums, and Wendy Wade on vocals.
The whole show was cultured and extremely enjoyable with that 'pizazz' showmanship that professional swing jazz musos have.
The best way to describe Wendy and Jon Wade's smooth sound is 'blues inspired swing jazz with strong rhythm influences'. This is evident too in their latest album entitled New Blues on the Block, an all-original compilation of contagious swing jazz beats that is extremely enjoyable. In fact, I'd go so far and say if you've been iffy about jazz in the past, after one listen to New Blues on the Block you'll be hooked.
They are really good.
Performing as a Hammond trio produces that inescapable jazz sound made famous by other jazz greats in the past such as Hammond player Brian Auger, predominant in the 60s and 70s, whose band Steam Packet boosted a young Rod Stewart and Long John Baldry in it.
So with Hodges playing his drums with an intelligent sensitivity and mostly feather hitting his kick drum, within a triplets feel, often bouncing the high hat on the up beat, either on the second and fourth note or sometimes with the emphasis on the second eighth note as well; it's fair to say technically speaking, this describes the sound of swing jazz with a Hammond Trio. Each instrument has scope to improvise within the structured song being played.
For example, when Wade played bass notes on his keyboard, House played chords on his guitar and vice versa.
Says Wade: "A lot of jazz can be too polite or very structured, and yet we create the freedom within a structured sound for spontaneity and express original sounds rhythmically. Alex and Peter move in and out, we all listen to each other and swing and improvise within the songs structure."
Wendy Wade's voice had clarity, great diction and was distinctive with a delightful tone that suffered no pretentiousness while accommodating her range easily; it's like a fragrant melodic articulation caressing the ear.
Her classical training of six years, and experiences as a choral and acapella singer gave grace and style to her performance. You could say she swings with style.
There is a lot of variety within the Wade's performance. You've got the traditional chamber jazz mixed with full on swing, along with their original tunes imbued with authentic classic standards. Influences from Count Basie, George Shearing, Jacky Byard, pianist to Ella Fitzgerald, Billie Holiday, and Etta James could be heard in their uncomplicated jazzy ballads as they sang standards from early 60s including classics from Cole Porter, Duke Ellington, Ella Fitzgerald, and latter day Van Morrison. It invoked a delightful journey of memories of that great era with modern day overtones.
Jon Wade is no stranger to the jazz scene either. Before leaving his birthplace of England he gigged with Peter Koe the renowned sax player on The Beatles' Sgt. Pepper's Lonely Hearts Club Band album.
Performed with Ronnie Scott's, Cleo Lane and her husband John Dankworth, jazz trumpeter Kenny Wheeler, Martin Drew, and Laurence Juber guitarist from Paul McCartney's Wings band.
They have now settled on the Mornington Peninsula after gigging in Europe, America, England and Australia and are enjoying regular residencies at Dizzy's Jazz Club in Richmond, Ruby's Music Room in Bennett's Lane in the city, and the Leaf & Bean in Mornington, calling it Jazz and Shiraz on Sunday afternoons.
The New Blues on the Block album is superb. All songs are inspired by personal life experience and are heartfelt.
Respected musicians like Jimmy Slogget of Max Merritt fame, Ed Wilson of the Daly Wilson Big band fame and respected jazzman, Budi Winarto performed on this album.
Jon and Wendy Wade are the real deal and are a must see.
To listen to sample tracks and buy/download go to jonandwendywade.com
Or call 0400 689 178 for booking and inquires.
Truly you will be inspired and delighted and be a keen convert after listening to this album. It's awesome.