By MELISSA WALSH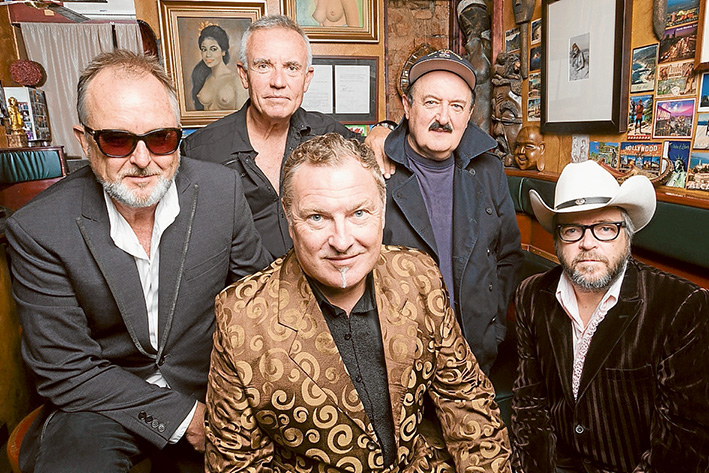 When you've been in the music industry as long as Ross Wilson, doing a gig like The Besto Mondo Tour is more like fun than hard work.
Ross and the original line-up of Mondo Rock will be back this year to take the stage by storm again on Saturday 22 August at The Palais.
Off the back of rave reviews and sold out shows across the country last year, the iconic Australian rock band have announced a select season of theatre shows, with the original line up for their Besto Mondo Tour.
"It was great to get together with the guys again last year and we're rehearsing at the moment for the Besto Mondo Tour," says Wilson, who has just returned from holidays and is ready to rock. "Last year some of the songs on the Chemistry album I hadn't sung in years and you tend to go back into the headspace of where you were those years ago."
Wilson says this year they will be concentrating on songs from the best of collection.
"We are very diligent about how we prepare and all of us guys have been still full time musicians so it's just fine tuning," says Wilson.  "Even though I perform some of the songs with my own band, when the original band get together there's something different about it.  It has that extra glue or power that gives the songs more weight."
Mondo Rock will be hitting the road with the classic line-up – Ross Wilson, Eric McCusker, James Black, Paul Christie and Gil Matthews reuniting once again – and the lads cannot wait.
Finding fame and fortune with Daddy Cool in the early 70s, Wilson says he realised after the band dispersed how hard it had been to handle that kind of notoriety.
"I kind of realized I was a bit nuts at the time. First of all you go around and the spotlight is on you and you become a bit overwhelmed, so when Mondo Rock took off I was more prepared," said Wilson, who started out singing in the school choir and in a band at school.
"I grew up in a musical household so got into my first band at school, and playing gigs weekends. Then I decided to take a leap off the ledge without a net and got into it full time.
My parents were very supportive. Dad really never mentioned it as a problem and over time I proved to him that I could make it work."
As for longevity, Wilson says being in the position of a lead singer and a writer gives him the ability to marshal all the forces together and direct what's going on, as well producing other albums for the likes of Skyhooks.
"When I saw Skyhooks I sort of became their mentor. I was sticking up for them and watching out for them in the industry. I was really glad they signed with Mushroom because I didn't want them to be censored."
The most difficult part of the 40-year journey, he says, was being young and a little naïve.
"When you start off young and full of enthusiasm you tend to be more trusting so you have to learn. It's the classic story of artists being exploited. These days it's a lot more business like though with more resources available. There was no such thing as showbiz lawyers and little advice when we started out."
These days Wilson's musical tastes are varied.
"My musical style has changed a bit I think and I'm always looking for something different. I'm a music omnivore," he says with a laugh.
Mixing it up with Mondo Rock, New Zealand band Mi-Sex are special guests playing all their hits, including faves like Computer Games, Blue Day, People and But You Don't Care.
"It's great to have Mi-Sex as supporting. They're brilliant and we're all looking forward to some fun," says Wilson.
Mondo Rock started out as a quintessential pub rock outfit and soon developed into one of the most prominent bands of the live music scene. As they prepare for the Besto Mondo tour, fans can expect the same musical genius all over again with hits from the Besto Mondo Greatest Hits Collection.
Tickets available from ticketmaster.com.au or call 136 100.