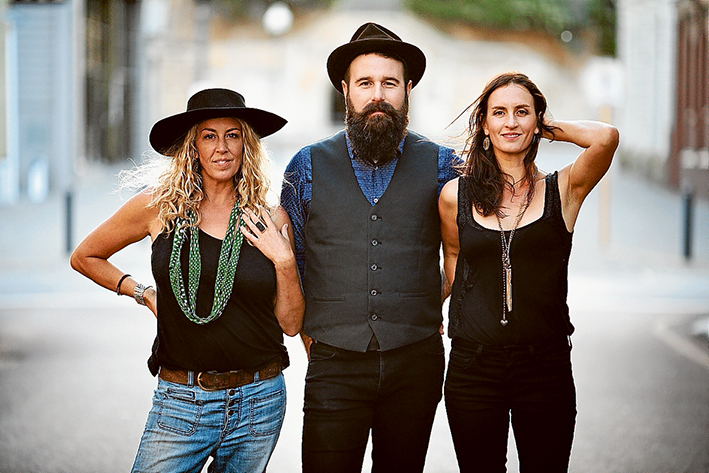 The Waifs will be bringing their beloved mix of folk, blues and rock sounds – playing their classic tracks with trademark storytelling skill – to The Peninsula Picnic on Sunday 29 March.
From a journey that began in 1992, with two sisters and a friend travelling in a van playing gigs for anyone and anywhere, to half a million record sales locally and multiple ARIA awards, The Waifs have plenty of tales to tell through their music – and storytelling they do well – their trademark honesty, passion and humour shines through their musical offerings, attracting legions of fiercely loyal fans.
Sisters Vikki Thorn and Donna Simpson deliver their stories with the help of Josh Cunningham on guitar, who they met by chance in Broome way back when. The trio are often joined by the rhythm section of David Macdonald on drums and Ben Franz on bass. Reuniting for select shows across the summer The Waifs will be bringing their beloved mix of folk, blues and rock sounds, playing their classic tracks.
The Waifs have had have three top fifty singles, London Still (2002), Bridal Train (2004) and Sun Dirt Water (2007). The band supported Bob Dylan on his 2003 Australian tour and then his North American tour that year.
Catering for a cultured musical palate, The Peninsula Picnic has handpicked some of Australia's best live acts and up-and-coming artists.
Something for Kate's Paul Dempsey will be performing his new solo material for a unique and unmissable treat.
Starting out as street buskers, the Pierce Brothers will showcase their energetic and exceptional stage presence that has seen them recognised as one of the country's most exciting young acts.
The intoxicatingly romantic folk of Tinpan Orange and the lush sounds of electronic-folk musician Hayden Calnin complete the perfect soundtrack to this event.
The Peninsula Picnic is the most extensive food, wine and music gathering ever created on the Mornington Peninsula, showcasing the very best chefs, resident restaurants, expert vignerons and vineyards.
Discover the hidden gems from the region's leading producers, growers, orchardists and gourmet storeowners set to the serene soundtrack of some of Australia's finest live music acts. As lyrics from London Still say: "If I ever come home, and I think I will. I hope your gonna wanna hang at my place on Sunday still".
Well, that Sunday has come, and it is Sunday 29 March and the place is Peninsula Picnic.