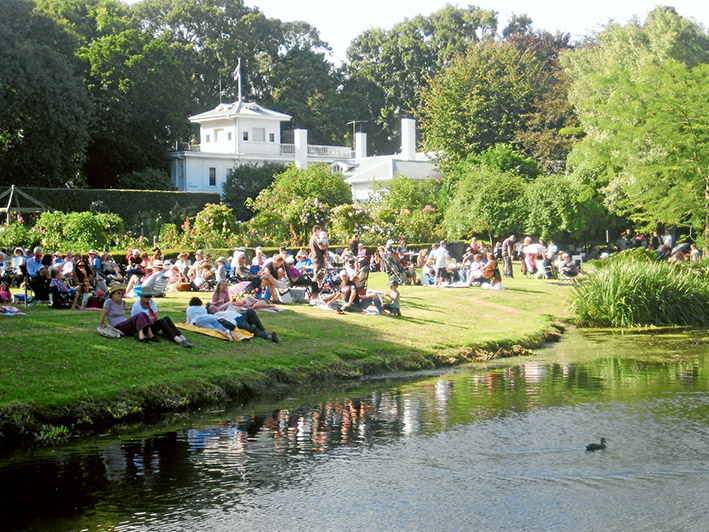 This year, McClelland is delighted that Derek Guille the renowned broadcaster, author and musician has agreed to curate and MC what promises to be a very special event featuring two of Melbourne's finest jazz groups The Pearly Shells and Ultrafox (featuring Julie O'Hara) along with one of our favourites in The Frankston High School Senior Stage Band, directed by Leon de Bruin.
Derek Guille presented the state-wide Afternoon Program on 774 ABC Melbourne and ABC Local Radio throughout Victoria and Southern New South Wales before taking up the reins of the ABC Evening Program for Victoria in 2003. In September 2011, Derek departed from his top rating evening radio show and the ABC after a career of 25 years at the microphone.
During his time as a broadcaster, Derek has undertaken thousands of interviews. From the world of news and current affairs, arts and culture, science and research, the list is seemingly endless. From interviews with Bryce Courtney, Elvis Costello, Sir Gus Nossal, Malcolm Fraser and Paul Keating, to interviewing David Attenborough and chairing his literary lunch and speaking with kd lang on stage after her gig in the Iwaki Auditorium.
In 2007, Derek accompanied the Melbourne Symphony Orchestra on its 2007 European tour where he found inspiration in the northern French village of Villers-Bretonneux to write a children's novel The Promise "A heart-warming tale for children, tracing the special bond forged nearly a century ago between the French village of Villers-Bretonneux and Australia… A gentle introduction to the legacy of one of Australia's most famous battlefields".
Other performers on the night include The Pearly Shells and Ultrafox.
So bring your picnic basket, rug, table & chairs, and sit back, enjoy and dance to the very best of music in the extraordinary ambiance and surrounds of the rose gardens at Cruden Farm. Also available for purchase on the day, wine, beer soft drinks, tea and coffee, the ever popular sausage sizzle and Southern Style jazz cuisine.
McClelland's Twilight Jazz Annual Fundraiser at Cruden Farm. Saturday 18 February 2017. 4pm – 8pm
Tickets $25 pre purchased before the day ($30 on the day at the gate). Children under 12 are free.
Sponsored by Elgee Park and Karingal Hub