By TERRI LEE FATOUROS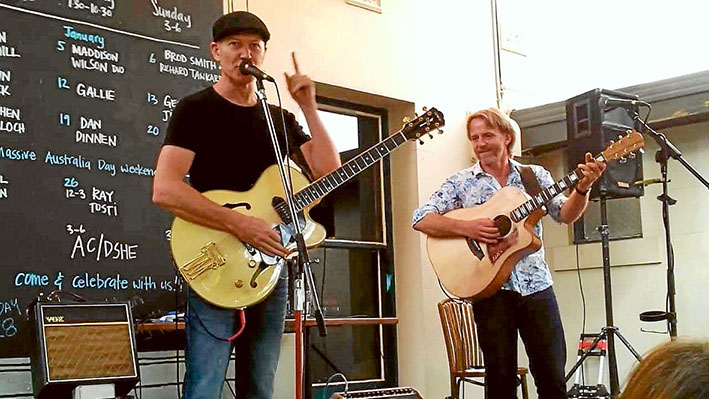 It's all happening at the Grand Hotel in Mornington this month when two of the Peninsula's hottest guitar slingers get together for another infamous Guitar Showdown.
Armed with their favourite axes and backed up by a stellar band, Jimi Hocking and Geoff Achison will finally face off on stage! Playing some of their favourite classic guitar riffs as well as their own brand of rockin' rhythm 'n' blues.
Achison has been a fixture on Melbourne's blues/roots scene since playing with veteran bluesman Dutch Tilders in the '90s.
After several years with Tilders he pursued a solo career overseas and quickly made his mark, winning the Albert King Award in Memphis 1995. He has since spent many years touring extensively throughout the US, UK & Europe. Achison returned to the USA in 2015 to promote his latest 20th anniversary release with The Souldiggers band and teaching his techniques at Jorma Kaukonen's famous Fur Peace Ranch in Ohio.
Hocking has been thrilling audiences with his astonishing guitar prowess for many years, both locally and internationally. Besides his role as lead guitarist with Aussie rock giants The Screaming Jets, he also won the 2003 International Blues Challenge in Memphis, Tennessee. He leads a hectic pace with his solo career playing brilliant one-man acoustic shows and continues rocking with his group, the Blues Machine.
Achison and Hocking's Guitar Showdown will kick off with some additional great acoustic blues from Wilson & White, so gather your friends and head over to Mornington's Grand Hotel this Friday 8th April, for some cool, rockin' blues.
Tickets are $15.00 when booked in advance, or $20.00 at the door – entry from 8pm onwards.
Call the venue on 03 5975 2001 or skip the queues by jumping online: www.oztix.com.au