By BILLY DIXON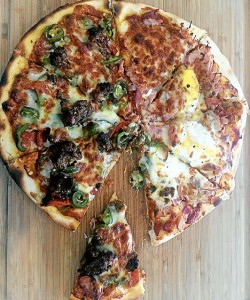 Nobody does pizza like That Pizza Shop. Sitting on the outskirts of Dromana, they cook their bases to a wood-fired standard of perfection, with a hearty topping that'll beat anything else the Mornington Peninsula has to offer.
Unlike some of the fast food pizzerias, That Pizza Shop uses real ingredients for a freshness and quality of taste that can't be matched. They'll happily whip you up a half-and-half – just as well, because their menu makes it difficult to settle on just one flavour!
Check them out on Facebook at www.facebook.com/thatpizzashop or head on down to their little corner of the woods at 234 Boundary Road, Dromana.
They close on Mondays and Tuesdays to take some time out, but are ready and waiting for your order Wednesday and Thursday evenings and Friday, Saturday and Sunday afternoons.