By Billy Dixon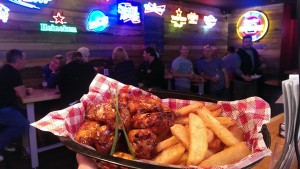 EVEN though they've been open a full year, Double G Saloon remains one of Mornington's niche hidden social spaces. You can't even enter from Main Street, so the intoxicated craziness of youth on a Friday or Saturday night simply pass by, oblivious to the talent that's ready to play on the other side of the wall.
They're the only Blues bar in Mornington, and indeed the wider area. Their burgers have been compared to Fat Bob's in Moorabbin by some of the most elite critics the burger industry has to offer, and the interior is adorned with genuine neon lights surrounding all form of memorabilia, but perhaps most strikingly, electric guitars.
Les paul style guitars with custom artwork, every one of them decorated with colour. It's like an art gallery that makes music!
Given Double G Saloon prominently feature many American beers, it seems fitting that their story started in the US, but with a quintessentially Australian conversation – "…let's start a bar!"
In July 2013, three mates – Glen Bryant, Glenn Pain and Michael Young, go on an American road trip adventure, covering ten states and having the time of their lives.
Visiting numerous bars on their journey through California, Nevada, Colorado, South Dakota, Utah and Wyoming, they were in awe of the American memorabilia on the walls.
The atmosphere this brought to the venues inspired them. Six months later, Glen kicked an idea round with Glenn, – who was already having similar thoughts – over pints of pale ale at the local brewery one Sunday.
Fast forward a few years, and here we are. After finding this quaint little haunt, they started to put their ideas together. Their blood, sweat and dollars have crafted the perfect environment for Blues to flourish, with fantastic ribs and wings on offer during entertaining hours and an atmosphere that is truly unique.
Glen Bryant runs the musical operation, taking bookings and ensuring the vibe is always complemented with great tunes, so if you fancy your skills on a guitar and are looking for a gig, give him a call on 0414 496 654.
Check the Gig Guide for a list of entertainment on offer over the coming weeks.
Glen Pain runs the restaurant side of what used to be a little Italian Trattoria. So, if you dig well-crafted food and music, the buzz of electric guitars and perhaps even a frosty Budweiser after hours, Double G is your next stop.
First published in Mint Magazine – February 2016