By ANDREA LOUISE THOMAS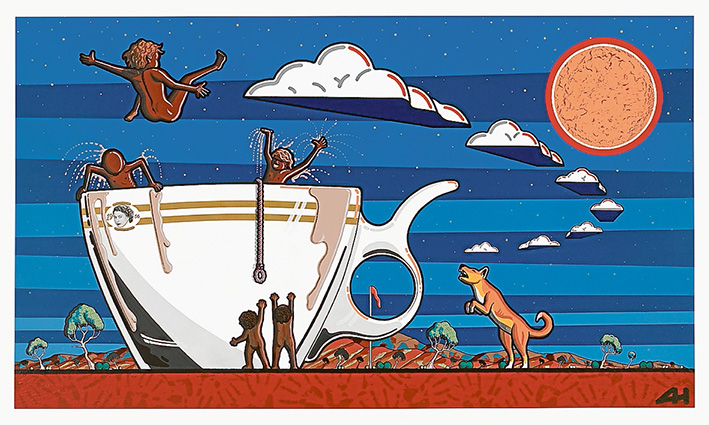 Who would have thought a beverage could be a cultural icon? Just as coffee is now a ubiquitous part of modern society, the traditional British cuppa tea has predominated for hundreds of years. Storm in a Teacup at the Mornington Peninsula Regional Gallery looks at tea drinking in Australia. From the British colonials with their civilised afternoon imbibe to the immortalised boiling billy of the pioneers; this exhibition explores the social, cultural and environmental impacts of tea.
Depicting the elegance and civilized grace of afternoon tea are works by E. Phillips Fox and Arthur Streeton while the polish comes off in Adam Hill's politically charged, yet humourous, Not Everyone's Cup of Tea or Michael Cook's Object (Table).
Thirty-four artists represented in paintings, works on paper, photographs, ceramics, sculpture and installation comprise this thought provoking exhibition that looks into and beyond the humble cup of tea.
Running concurrently is Ways to Draw: A Selection from the Permanent Collection by Betty Churcher (edited) which examines the methods and motivations of artists in drawing featuring the works of a wide cross-section of Australian artists.
Both exhibitions open Friday 24 July and run until Sunday 27 September
Mornington Peninsula Regional Gallery, Civic Reserve, Mornington
Call 5975 4395 or see mprg.mornpen.vic.gov.au